Totally aside from its politics, Washington, D.C., has always been a boater-friendly town, located on the banks of the Potomac with first-class marinas on both the Maryland and Virginia sides. Boaters have been sailing up the Potomac from the Chesapeake and beyond ever since the British sent warships up the river in the War of 1812.
It's much more peaceful now, and much more welcoming, particularly with the completion of the $3.6 billion, 24-acre Wharf project along Washington Channel just south of the Mall. The massive Wharf Marina there has more than 300 slips along the development's mile-long promenade that can hold vessels up to 200 feet. Additional moorings are set for boats up to 45 feet.
The marina, with floating docks and room for transients, has a gas and diesel fuel dock, ships' store, laundry, pump-out facilities, cable TV and security, among other amenities. Hotels, restaurants, bars, fish markets and grocery stores are all in the Wharf complex.
Two Metro subway stations are within walking distance, and the Wharf is set up for taxis, Uber and Lyft.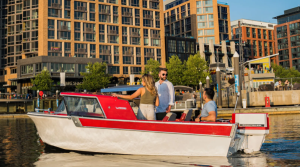 The marina also has rentals for kayaks and paddleboards and larger charter boats. In the past year Retro Boat Rentals opened there, offering classic fiberglass runabouts from the 1958 to 1963 era. They come in retro colors with chrome details and are all retro-fitted with electric motors.
It's easy to get to the Wharf. Washington is about 96 nm up the Potomac from the Chesapeake. You'll know you're getting close when you see Mount Vernon, George Washington's magnificent home, on the port side. There's a small dock for recreational boats; hail the dockmaster on Channel 16. Whether you stay or not, when you pass Mount Vernon make sure to ring your ship's bell. That's a tradition that dates to December 14, 1799, the night Washington died.
From Mount Vernon, it's only eight miles to the capital. After you pass Reagan National Airport on your port (Virginia) side, the Potomac bends a bit to the left. Go straight up Washington Channel, leaving Hains Point and the southern tip of East Potomac Park on your port side. The Wharf is straight up the channel.
Read more: http://wharfdcmarina.com