The historic Cantieri Aprea builders in Sorrento, Italy, will unveil their all-new Lancia Aprea at the Cannes Yachting Festival, starting Sept. 12. With its elegant, classic lines, the new 52-foot Lancia Aprea is bound to get a lot of attention there and in the U.S. later on with a special outboard version.
The Lancia Aprea line is the latest generation of boats from the Cantieri Aprea builders who date to the 1890s. They started with fishing boats and gained fame in the 1950s by building boats for movie stars who wanted to cruise between Sorrento and Capri. The company says the new Lancia Aprea is "a contemporary work of art."
And Brunello Acampora, the founder of Victory Design who worked on the boat's hull, said it combines "passion, tradition and new technologies."
The boat is built in two slightly different versions, one for the Mediterranean market and the other for the U.S. market. The Med version has a large sun deck at the stern, while in the U.S. version that area becomes a bit more open.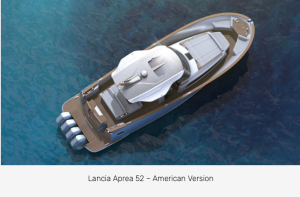 The other main difference is in propulsion. The boat being shown in Cannes has the Med version with two 850-hp MAN diesels, producing a top speed of 35 knots, and a range of 300 nm at a cruising speed of 25 knots. The U.S. version is powered by four 600-hp Mercury Verado outboards, with a top speed of 50 knots and a range of 200 nm at 35 knots.
The Lancia Apria 52 can be heavily customized, but the basic boat has a sun bed forward and a fully equipped bar and galley amidships under a large hardtop that's connected to the windshield. The boat at Cannes has three large cabins and two heads below. The bulkheads are covered in white herringbone wrap, and the interiors are finished by Loro Piana.
The boat is offered in 11 color options that take their names from coastal sites around Sorrento and Capri. The Cannes boat is Blue Vervece color, named after an islet there.
Specs.: LOA:  52'; Beam: 16'; Draft 2'6'; Disp.: 44,000 lbs.; Fuel: 660 gals.; Water: 132 gals.; Power (US version): 4×600-hp Mercury Verado outboards.
Read more: https://barcheamotore.com/lancia-aprea-52-15-3-m-is-the-xl-walkaround-for-cruising-even-at-50-knots/?lang=en