This was bound to happen. Artificial intelligence now is taking to the water, theoretically helping a new luxury yacht cruise more efficiently under electric power, while also keeping tabs (in not quite defined ways) on the crew to make sure they are embracing the new green technology to the full.
All this is built into a new 164-foot Rossinavi hybrid named No Stress that was launched last spring and delivered to its owner last week. It's the first in the Italian builder's Blue line of hybrid yachts.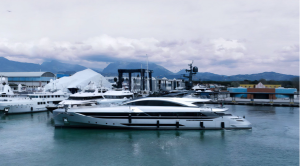 No Stress has sleek, super-modern lines and an aluminum fast-displacement hull that has two power systems: Two diesel engines for speed, and two electric motors for silent and eco-friendly cruising, powered by generators and a battery pack. (We don't have any other details here.)
In the electric mode, the system is run by artificial intelligence with five modes from full-diesel to full-electric. One mode operates the yacht's hotel systems. "Artificial intelligence allows you to enjoy the electric experience on board to the fullest," says Federico Rossi, the company's CEO.
One of the AI functions is to monitor the battery bank so that it's charged at its optimal level from 20 to 80 percent. But the company says AI will also inform the crew "in permissible ways" about how to keep the yacht's environmental impact as low as possible underway or at anchor.
And this is just the start. Indeed, Rossinavi plans on launching a 141-foot power catamaran next year, optimizing its new technology, that will be able to cruise on electric power alone for a full day.
Read more at http://rossinavi.i and see the video below: