Two big new power catamarans are getting a lot of attention at the Cannes Yachting Festival, for quite different reasons.
One, the Sunreef Power Eco 80, is taking eco-conscious cruising to an entirely new level; its hull sides virtually bristle with built-in solar panels. The other, the VisionF 80, is taking attention-getting to a new level; it's painted pink.
The Sunreef Eco 80 is the Polish yard's newest power cat, and you can order it in both all-electric and hybrid versions. The all-electric one is at Cannes, and its solar panels produce a massive 36kWp in sunshine, although that's a bit deceiving because the sun would have to shine on both sides of the yacht at the same time to produce that much. And you'd have to order the optional 200-square-meter array on the hardtop.
Still, the Sunreef's solar/electric power combination is impressive. The two 360kW electric motors are powered by the cat's powerful 640kW battery bank. Sunreef says that's the largest ever in a yacht this size. For backup, or a lot of cloudy days, the cat has two 150kW generators.
The solar panels are fully integrated into the cat's composite structures to provide for extended cruising without using any fossil fuels. Sunreef says the Eco 80 can cruise almost 300 nm on solar power alone.
Other green features include a water-making and purifying system to generate drinking water, DC-powered air conditioning, non-toxic bottom paint and natural composite structures.
The Sunreef 80 Power Eco can be customized for each owner, with both interior and exterior spaces taking advantage of the cat's full 39' 4" beam, basically half its length. Options include an owner's stateroom forward on the main deck, and a hot tub on the aft part of the enormous flybridge.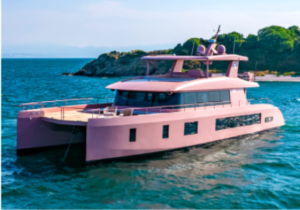 For its part, the VisionF 80, made in Turkey, has enough solar panels to power the cat's house systems, and there's extra space on the coach roof, in front of the upper helm, for more panels. The company says the cat's aluminum hull dissipates any excess heat into the water.
The owner, a tech entrepreneur, ordered the pink color. On its website, VisionF says that "we create innovative, exciting yachts that stand out with their distinctive designs." The VisionF 80  has luxurious accommodations for four suites on the lower deck.
Power comes from twin 800-hp Volvo IPS1050 pod drives, producing a top speed of 18 knots.
Read more at  http://sunreef-yachts-eco.com and http://visionf.com and see the video below: