European Waterways just announced that it will start six-night tours of the Champagne region of France next May on its new hotel barge, fittingly called the Kir Royale.
The luxury barge will have four staterooms, holding eight passengers, and five crew on its six-night excursions through some of the most beautiful regions in France. It also will stop along the way so that guests can visit some of the area's most famous Champagne houses.
The Kir Royale comes with a history. It served as a beach landing craft in the Second World War, then it was sunk and ultimately refloated and converted into a luxury hotel barge. The guest staterooms are air conditioned and have en suite heads with his-and-hers sinks and a rainforest shower.
The salon is built with custom furniture and features a piano, a bar and a separate dining area. A sun deck is forward, a larger sun deck is aft, with a covered dining area, lounges and a heated spa pool. Up top, the observation deck promises panoramic views of the passing countryside and vineyards.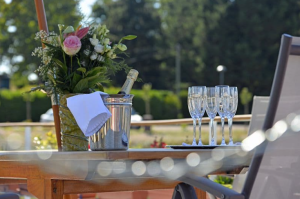 The Kir Royale will cruise along the river Marne and its canal, and stop for exclusive visits to some of the region's most legendary Champagne houses. A stop at Moët & Chandon will include lunch, a private tour and wine tasting. A visit to the boutique winery of Frerejean Frères includes a gourmet lunch in the salon of the family's domaine. A third excursion includes a private tour and tasting at Maison Pannier, the largest champagne house in the western Marne valley; the cellars there date to the 12th century and are several miles long.
During the voyage, the Kir Royale will also stop for a visit to the Reims cathedral, once the site of the coronation of the kings of France, and to some of the most famous battlefields of the First World War.
Read more: http://europeanwaterways.com