The just-launched Solara S-310 Sport Coupe, the latest model from Fluid Motion, and the Hyfoil 28, an innovative foiling catamaran RIB, just won top prizes at the Newport boat show.
The Solara S-310 SC won the prize as the Best New Powerboat 30 Feet and Over, awarded by a panel of judges; it also won the People's Choice Award, voted on by people attending the show on its opening day.
The Hyfoil 28 won the prize as the Best New Powerboat Under 30 Feet, as well as the award for Best Overall New Powerboat and the show's Green Boat Award. The winners were announced on the second day of the show.
The awards competition is open to products launched after April 1 each year that are making their boat show debut in Newport. This was the 52nd year for the Newport show.
Solara Boats is a new company founded just last year by Fluid Motion, the Kent, Washington, builder that makes Ranger Tugs and Cutwater Boats. It has an open and versatile layout, making it appealing for a variety of uses, whether day or weekend cruising, fishing, enjoying watersports or just relaxing on the water.
The cabin has a private forward stateroom that's climate controlled and it has an enclosed head with a macerating toilet and a hot-water shower. The ten-foot beam provides stability; it also means the S-310 SC can be trailered. Standard power comes from two 300-hp Yamaha outboards. Read more at http://solaraboats.com  and see our story about the boat last week: https://cruisingodyssey.com/2023/09/10/solara-launches-new-310-sport-coupe-in-newport/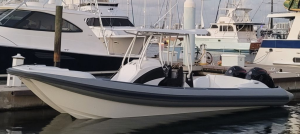 Hyfoil Marine, in Rock Tavern, New York, a bit northwest of West Point, makes three models, a 22, 28 and 32. The 28 is available in either fiberglass or carbon fiber composites. The beam is 10′, or 8' 4" when deflated. The basic RIB weighs 3,500 pounds, and can carry 14 passengers.
Hyfoil takes a different approach to foiling. Its foils do not lift the 28 out of the water; they just lift it up a bit, so the hull is still partially in the water. Hyfoil says this provides a great advantage in stability (as opposed to boats that ride entirely on their foils), and it allows the boats to be powered by conventional outboards, ranging from 90-hp to a total of 400-hp.
The engines are angled so that the props are slightly outboard of the cat's tunnel for maximum grip and to provide extra control when leaning into a turn. The foils are stationary and don't protrude below the hulls.
The Hyfoil 28 also can be powered by twin electric engines from 73 kWh to 147 kWh total, giving it a 130 nm range. Read more at http://hyfoilmarine.com and see the video below.