The new SeaPiper 35 is an honest boat. It's not a floating condo; it doesn't have a lot of bells and whistles; it wouldn't particularly feel at home at a luxury resort/marina.
With the SeaPiper 35 what you see is what you get. It's a straightforward, easy-to-use, easy-to-maintain, 7.5-knot workboat-look-alike that's trailerable; it can carry you around the Great Loop, down the ICW or up to the San Juans and Canadian Gulf Islands safely and comfortably. It doesn't look like every other boat in the harbor; it has character.
The SeaPiper was originally designed by Ritzo Muntinga, an electronics engineer in California. He built the first one in California and then some in China and then the Pandemic hit. The boats are now being built in Anacortes, Washington, by a subsidiary of Seattle Yachts, and sold by Seattle Yachts.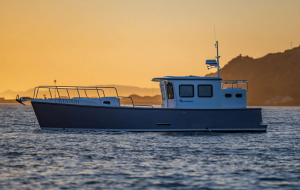 The workboat look comes from the fact that the middle third of the boat is an open cockpit, leaving lots of room for stowing things or simply relaxing. There are doors on each side for easy access. A door forward opens to the single stateroom, with a V-berth and a head and shower.
Another door aft leads to the wheelhouse, with the helm on the starboard side and an L-shaped settee with a high-low table to port; this can be converted to an extra sleeping space. The compact galley is aft, next to the door leading to the small aft cockpit, which has two doors opening to the swim platform.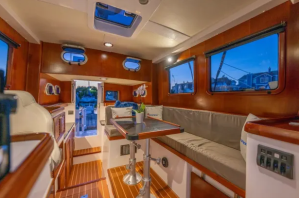 Power comes from a single naturally aspirated 85-hp Beta diesel, producing  a top speed of 9.5 knots. The boat has a range of 1,400 nm or so at a slower cruising speed. It comes with bow and stern thrusters to help with docking.
The hull carries 2,000 pounds of ballast and it's flat enough so it can sit on its own bottom at a marina without needing jack stands or a cradle. With an 8' 6" beam, the SeaPiper is also trailer-friendly, if you want to move it from one distant cruising destination to another.
Specs.: LOA: 35'10"; Beam: 8'6"; Draft: 2'11"; Disp.: 17,700 lbs.; Fuel: 200 gals.; Water: 102 gals.; Power: 1×85-hp Beta diesel.
Read more: http://seapiper.com  http://seattleyachts.com