The Big Game Club in Bimini just reopened, one of the most iconic cruising, fishing and diving destinations in the Bahamas, and reachable from South Florida in five or six hours on a trawler, or about two hours on a fast boat. Take a Magnum or an Intrepid, and you can be at the Big Game Club for a relaxed lunch and get back at your dock at Turnberry or Fisher Island long before evening cocktails.
(Although all the Big Game Club's facilities – the marina, restaurants and resort – are now open, you have to abide by the Bahamas' pandemic protocols to visit there. You can see them on the link below this story.)
The Bimini Big Game Fishing Club opened in 1936, when Bimini was one of the more interesting destinations. Home to rum runners during Prohibition (and drug runners later on), Bimini in the '30s attracted a colorful collection of anglers and adventurers, lured by the world-class fishing. Zane Grey and his captain Tommy Gifford stayed there; so did Howard Hughes. Ernest Hemingway wrote, drank, fought, and fished there, going back and forth to his base in Key West.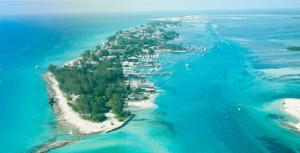 Today, the island is a bit more calm, but its gin-clear waters still draw recreational fishermen and divers from around the world. People young and old love to snorkel along the Atlantis Road, an ancient underwater arrangement of stones that have baffled scientists and locals for generations.
The Big Game Club is now a boutique resort and marina within walking distance of just about everything in Alice Town on North Bimini. The Big Game Bar & Grill is open for breakfast, lunch and dinner on the second floor of a building overlooking the marina and the bonefish flats.
Accommodations include rooms, cottages and penthouses. Marina guests can enjoy the resort's fresh water swimming pool; guests can use kayaks, paddle boards and bikes. The resort also has a dive center and a 60-foot dive boat with a glass bottom.
The marina has 75 slips, and can hold yachts up to 140 feet. Mean low water is nine feet, and the marina offers electricity, water, Wi-Fi, 24-hour security, and heads and showers. Read more:
https://bahamasmarinas.com/procedures-and-protocols/