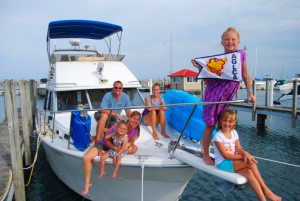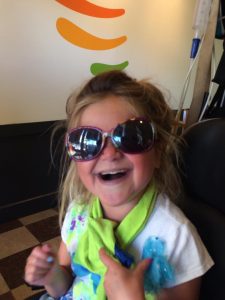 When she was born with a congenital heart defect, Mia Wilson was given a 10 percent chance to live. Now, after three open-heart surgeries, Mia, 6, is on the Great Loop with her family and loving every day of it.
Mia and her family, father Bobby, mother Wendy and big sisters Nina, 19, AnnaMay, 9, and Ella, 7, are cruising the 6,000-mile Great Loop on a Bayliner 32 named La Cigale, despite Mia's need for 40 different medicines a day; she's also hooked up to a feeding machine most of the time since she can't swallow. The Wilsons tie up every night at a marina with WiFi, so they can stay in touch with Mia's doctors back in Akron, Ohio, and where they can get to emergency medical care if Mia needs it.
Bobby and Wendy Wilson had always dreamed of doing the Loop – once they retired. But after Mia survived her surgeries, they decided to take advantage of the time they had together as a family and do it as soon as possible. Last spring they bought the Bayliner from friends who had already completed the Loop on it. They didn't have much experience boating so Bobby took a U.S. Power Squadrons course. And last summer they left their home port of Sandusky after arranging for Mia's medical supplies to be sent to them FedEx along the way. They also are working with local harbor hosts from America's Great Loop Cruisers' Association, who accept the medical packages for them and give them rides for shopping and sightseeing.
The Wilsons are now about half way through the Loop. They celebrated Mia's 6th birthday last month at Faro Blanco in Marathon in the Florida Keys, and will head up the east coast this spring. They have to be back home in June, when Mia is scheduled for more surgery.
Meanwhile, they're enjoying each day as it comes. Indeed, Nina has written that she hopes the Wilsons' story "is an example to others that you never know what life has in store. You can never know the amount of days you will remain on this earth, so live your dreams while you can."
For more about the Wilsons, go to: https://www.facebook.com/WilsonsOnTheWater/