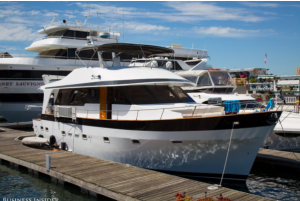 A lot of us dream of living aboard. I know. I actually did it for a few years, including winters, in Connecticut on my Grand Banks 36. We do it for a variety of reasons: It's a great experience; you get to spend more time on your boat; you become much more aware of the day-to-day marine environment; you are part of a small community on your marina with shared interests and passions. And it's fun.
It also can be less expensive than living ashore, particularly if you're in a soaring real estate market, such as San Francisco. That was the case ten years ago for Mike Kraft and Misa Gidding-Chatfield, who started to think about living on a boat as an alternative to the high cost of housing in the Bay Area. The median price of a home in San Francisco at the time was about $840,000 (and much more than that now).
So they looked at about 200 boats up and down the West Coast before they bought a 58-foot, 1980 Offshore Trawler for $300,000, got a live-aboard permit and settled into life at an East Bay marina. They figure that the boat has about 900 square feet of living space, about the same as a studio apartment on shore, but it has a master stateroom, two guest cabins (including bunk beds for visiting grandchildren), and three heads. For everyday life, it's big enough for them to relax with their small dog, Roxie. And they have waterfront property, with great views of the bay. Mike commutes to work for an electrical contractor in San Francisco.
For costs, they're now paying off a balance of $150,000 on their boat loan, plus $900 a month for a slip fee and $300 every three months for a diver to clean the bottom. As a bonus, they often take the boat out for weekend overnights to Angel Island or Treasure Island. And they think they made the right decision. "It's our vacation, it's our home," says Misa. "It's our passion." But the liveaboard life also requires a lot of maintenance and work around the boat. "It's not for lazy people," says Mike.
For more: http://www.businessinsider.com/couple-buys-boat-to-avoid-san-francisco-rent-2017-7/#this-is-mike-and-misas-home-sweet-home-1