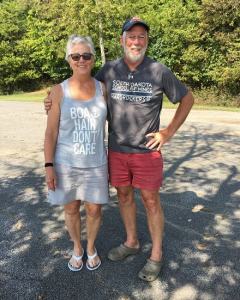 Tim and Mary Kenyon, from Wentworth, South Dakota, describe themselves as "water people." She is now a website designer, and he's a retired geologist, but when they were married they said the first thing they bought together was a canoe; then a Hobie Cat, a Balboa 16, and finally a Ranger Tug 21, all for use on Lake Madison nearby. Then they wanted a bigger Ranger, maybe a used 25. They went to the Seattle boat show in January, 2015, "with every intention of just looking," Mary wrote on her blog. They ended up buying the new Ranger 25 on display there.
The Kenyons named the new Ranger Nellie May, the same as the old Ranger, to recall Tim's grandmother, whom they describe as "a pistol." And, with the bigger boat, their thoughts turned to bigger adventures.
Last September 11, after trailering Nellie May nine hours from home, the Kenyons started the Great Loop in Ottawa, Illinois, at the confluence of the Illinois River and the Fox River, about half way between Chicago and Peoria. Tim's brother Dan made the drive with them, and then drove the truck and trailer back to Wentworth. They headed down the Illinois to the Mississippi and the Tombigbee, and ended up at the Gulf in time for some winter weather.
Along the way, they met other Loopers, made friends, enjoyed the sights, and generally cruised at a steady, fuel-efficient 7 mph. The only problem involved a repair to the bilge pump. But then in early January they were in Carrabelle, on the Florida Panhandle, waiting for the weather to clear for the Gulf crossing to Tarpon Springs. The forecast wasn't good, so they called a former Ranger dealer who had a trailer for the 25; he picked it up in Carrabelle and dropped it off in Tarpon Springs. Problem solved.
The Kenyons then headed down the west coast of Florida to the Okeechobee and crossed over to the Waterway. In early February, they were in Melbourne, and decided they needed to head home for some business (and to prepare their taxes). They pulled Nellie May out of the water at the Anchorage Yacht Basin in Melbourne and flew home. They'll fly back at the end of the month and start cruising again, hoping to cross their wake back in Illinois in September.
They love the Loop and they love their Ranger Tug. Mary told me that the best part of the trip for her, so far, has been "the opportunity for a new adventure every day," and "meeting other Loopers to share stories." For Tim, the best parts have been "seeing new territory every day, putting to use all those skills I have worked hard to acquire, and a sense of accomplishment at putting a plan into action and seeing it through to completion." For more: