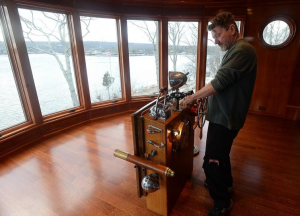 Jim and Cathy Barnard of Waterford, Connecticut, are giving a new meaning to the idea of living aboard. They don't actually live on a boat that floats; instead, they live on a house they built on dry land that looks like a boat. And a classic boat at that.
According to this story in The Day, the Barnards designed their 4,400-square-foot house so it would look like a vintage steamship. They had some property on a 60-foot bluff overlooking the Niantic River, basically between East Lyme and New London, and about six years ago they started designing the house "on a napkin in a bar." "He said he didn't want a basic Nantucket beach house," Cathy said. Her uncle had been a tugboat captain, and she came up with the idea of the boat.
The boat-looking-house now has porthole windows, a 1920s bar, hardwood paneling and, on the second floor, a helm station complete with a ship's wheel, throttles, compass – and a great view of the river below.
For more: https://www.theday.com/local-news/20180310/the-biggest-boat-in-town