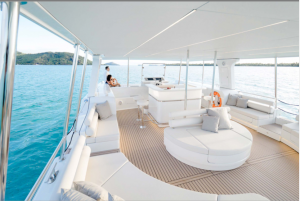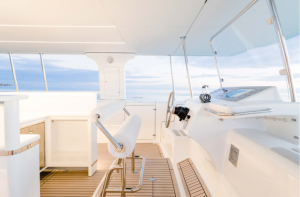 Day or night, rain or shine, the new SoelCat 12 is a 39-foot solar-powered catamaran than can run at six knots for 29 hours. If you firewall the throttle, you can push the lightweight (13,200 pounds) cat to about 14 knots, but you'll also run out of juice at the end of an hour. Since most people feel comfortable in the 8-knot range, you can cruise under solar, using no fossil fuel and leaving no emissions or noise behind, for about eight hours at that speed, certainly long enough to enjoy a full day with your family or friends. And you can a whole lot of your them, since the SoelCat 12 holds 12 passengers and 4 crew. With a 19-foot beam, they won't be crowded.
Soel Yachts in Delft, the Netherlands, designed the boat as an efficient solar/electric vessel to provide sustainable transportation at sea. It has a rooftop solar array providing 8.6 kWp, twin 30 kW electric motors, and a lithium battery system with a 120 kWh capacity. Hull number one was built in New Zealand and is now operating at a eco tourism resort in Bora Bora. It has one big plus there. When the SoelCat 12 is not cruising, it uses its solar array to feed the local AC grid, in this case running a desalination plant producing up to 1,000 gallons of fresh water an hour.
The boat's helm is centerline with a simple dash containing twin flush-mounted displays developed by Naval DC, Soel's partner in the project. They show energy use and storage and determine the available range in real time. You can monitor them remotely on a smartphone or tablet.
Soel thinks the main market for the SoelCat 12 will be as water taxi, shuttle, dive boat or party barge. It also would be a great to tie up behind your house or at your marina knowing you'll never have to worry about fuel costs, lots of maintenance (it has very few moving parts) or leaving any pollution in your wake. Read more: