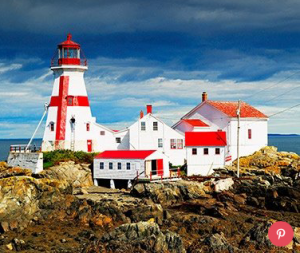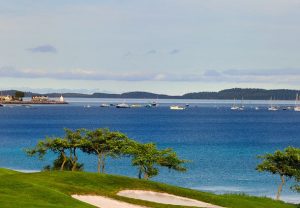 If you want to get away from the crowds and experience some cruising in deep-blue waters, where rocky green coastlines are dotted with small coves, islands and potential anchorages, head all the way up to the top of Maine to the U.S.-Canada border and turn into Passamaquoddy Bay, New Brunswick. And as you pass Eastport, Maine, the last town in the U.S., take a look a mile across the strait to Campobello Island, the summer home of FDR and the site of the East Quoddy Lighthouse with its absolutely iconic red Cross of St. George.
I took this trip a few years ago with Billy Black, the photographer (and my friend), on a new Hunt 29. We spent the night in Eastport, a small (pop. 1,331), old fishing town where, frankly, there's not a lot to do. It does have two marinas, however, which were convenient, as long as we accounted for the 23-foot tides. Eastport is close to the top of the Bay of Fundy, with some of the fiercest tides in the world. The next day we cruised across the top of the bay though some not-so-nice fog to run the Reversing Falls at Saint John.
Instead of returning to Eastport for the night, we headed past it and up Passamaquoddy Bay to the old Canadian waterfront town of St. Andrews, and it was a good choice. The bay is beautiful and protected; it's so protected, in fact, that it was a thriving smugglers' haven during both the Revolution and the War of 1812, and perhaps for a good while after that.
St. Andrews is an old-world gem. It too is not large (pop. 1,889) but is had all the ambience of a long-established summer resort, with a few art galleries and general stores and the majestic Algonquin Resort hotel and golf course that have been there for some time. True to its fishing heritage, St. Andrews also has some great seafood restaurants; try the lobsters and scallops.
And the people are friendly. After we tied up at the marina downtown Billy and I were trudging up the hill, carrying out bags, heading for the Algonquin, when a very nice woman and her young daughter stopped to give us a ride. They had driven downtown to get ice cream cones after dinner and thought we looked tired. (They were right.)
Here's a good story from Canadian Yachting with some insights and local knowledge about Passamaquoddy Bay:
http://www.canadianyachting.ca/destinations/canada/4338-passamaquoddy-bay