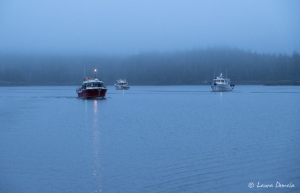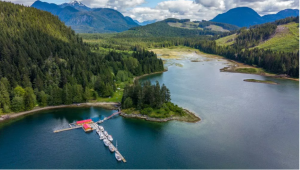 The annual Slowboat Flotilla up the Inside Passage to Alaska is well underway; indeed, more than a week after they left Roche Harbor on San Juan Island in Washington state the five boats on this year's cruise are about a third of the way up to Juneau, their final destination.
The Flotilla this year is made up of the Nordhavn 40 Cassidy; Ranger Tug 29 Rhapsody; Nordic Tug 37 Safe Harbour; Nordic Tug 34 Airship, and Nordic Tug 37 Fortunate, and so far they have run the gamut of Inside Passage experiences: whales, eagles, dolphins, fog, squalls, sunny days, rapids, lumpy water, calm seas, and snow-capped mountains. In short, just about everything they signed up for.
Slowboat was formed by Laura Domela and Kevin Morris on Airship and Sam Landsman on Safe Harbour a few years ago. Domela is a photographer in Portland, Oregon, and Morris runs an electronic engineering publishing company; they both work on board. Landsman is the former editor of a cruising guide who lives in Seattle. The idea behind the flotilla is that they serve as experienced guides all along the way; they also believe that there's safety – and sociability – in numbers.
Domela posts a blog of the cruise as the Flotilla works its way north. She also posts a lot of pictures that make the whole effort seem worthwhile. I've taken this cruise a few times, and I love to look at her work to bring back great memories. And her pictures often make it seem even more beautiful than I remember. Take a look: