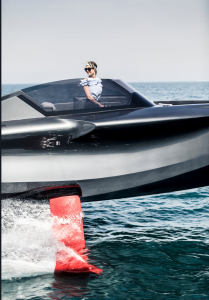 In case you missed the very James-Bond-looking Foiler when it was launched in Dubai in March, you now can catch it this summer on the French Riviera, where it will be on display in Monaco and Saint Tropez until the fall boat shows. It's hard to miss, since it rides 5 feet over the water on its carbon fiber hydrofoils, cruising at up to 40 knots.
Made by Enata, based in the UAE, Foiler claims to be the first production boat hydrofoil. The boat starts to foil at 12 knots and is totally out of the water at 17 knots. At low speeds, the foils retract at the touch of a button.
The Foiler is powered by two 320-hp BMW diesels and it's a hybrid. Under diesel power it has a range of 130 nm at 30 knots. But in its electric mode, running on two generators and battery power, it can run for ten minutes at up to 10 knots.
The boat can hold eight passengers, and Enata says they'll be comfortable in most sea conditions since the boat is riding above the water. It says people can walk around the boat at cruising speed, and it can handle 6-foot seas. The Foiler also is fuel efficient, since there's little drag, and it produces almost no wake.
Specs.: LOA: 31'0"; Beam, with foils deployed: 23'6"; Beam, with foils raised: 10'8"; Draft (non-foiling mode): 1'6"; Disp.: NA; Fuel: 79 gals.; Water: NA; Power: 2×320-hp BMW diesels.