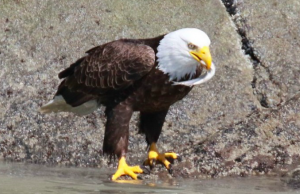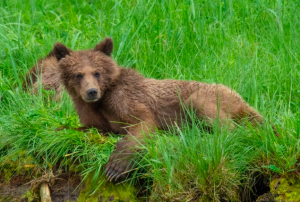 The annual Mother Goose Flotilla from NW Explorations is cruising way up in Alaska, having left its home base in Bellingham, Washington, on May 19. Seven boats in the flotilla have cruised through the San Juans and up the Inside Passage along the British Columbia coast to Petersburg, Alaska, planning to reach Juneau on June 24.
The flotilla just cruised through the Wrangell Narrows, a long, almost straight-line passage separating Mitkof and Kuprenof Islands, that is so narrow that the Coast Guard has placed more than 70 ATONs – cans, nuns, day markers, range markers – to keep mariners off the rocks. The flotilla, which is composed mainly of Grand Banks, generally cruises at displacement speed, so captains and navigators on board kept a lookout for fast Alaska state ferries or monster tug and barge combinations that also share space running through the Narrows.
Earlier in the week the flotilla took a day off their own boats to charter a 35-mph jet boat to the mouth of the Stikine River, where they watched at least 50 bald eagles plucking herring out of the water for breakfast. They said they noted that the older, larger eagles stayed in one place and simply grabbed a fish as it swam by and ate it whole on the spot. The smaller, younger eagles grabbed what they could and then flew off to eat elsewhere. On other days, the flotilla passed bears, seals and humpback whales along the way.
Brian Pemberton started the Mother Goose Flotillas at NW Explorations in 2005 to provide "the trip of a lifetime" in an organized fashion, with a lead boat under an experienced captain providing expertise and help. On the first night of this year's flotilla, the boats stopped at the Canadian port of Sidney, where they met the new owners of NW Explorations, Ross and Evie Tennant, for a salmon dinner. Although he sold the company, Pemberton remains as CEO and leader of the Mother Goose flotilla. (NW Explorations is a first-class charter operation; I speak from my own experience chartering a Grand Banks 36 there a few years ago.)
The flotillas cruise in a series of legs. The first leg was from Bellingham to Ketchikan, Alaska. The second leg, currently underway, is from Ketchikan to Juneau. This year's flotilla will end back in Bellingham on Aug. 22. Read more: