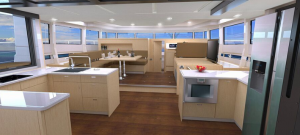 The new totally solar-powered Silent 55 catamaran will be launched at the Cannes Yachting Festival, starting Sept. 11. Silent-Yachts, the cat's Austrian builder, says it is the first production cruising catamaran powered exclusively by solar energy. The self-sufficient Silent 55 uses electric propulsion for unlimited range, with no carbon footprint, no noise and no fumes. It can cruise at 6 to 7 knots, all day and all night.
The new Silent 55 is available in several power configurations. In the Cruiser version, it has two 30 kW motors; The E-Power version has two 250 kW motors, and the Hybrid Power model has two 220-hp diesel engines and two 14 kW electric motors.
The boat comes with 30 solar panels rated for 9 kilowatt-peak, and it uses solar charge regulators and lithium batteries to provide power for cruising at night. A 15-kVA inverter provides power for appliances.
Michael Köhler, the CEO of Silent-Yachts, says the Silent 55 represents "the ability to cruise for many hours at normal speed, and throughout the entire day and evening at reduced speed." The top speed of the Hybrid Power version is 20 knots.
The Silent 55 has five different layouts, ranging from three to six staterooms and three to four heads. A full-width central owner's stateroom is the centerpiece of most of them, with guest staterooms in the port and starboard hulls.
The boat is built with vacuum-bagged resin for light weight; the hull is reinforced with carbon fiber at stress points. The company uses vinylester resin to prevent osmotic blistering.
The Silent 55 will be available in the United States at a later date.
Specs.: LOA: 54'8"; Beam: 27'7"; Draft: 3'9"; Disp.: 34,400 lbs.; Power: 2×30 kW, 2×250 kW.
Silent-yachts.com