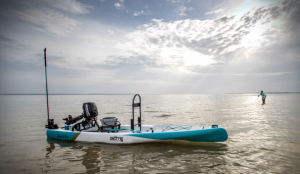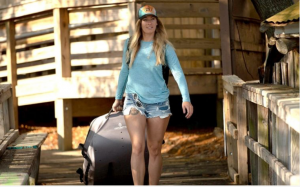 The wave of stand-up paddle boards has swept through recreational boating all across the United States in the past few years. SUPs are everywhere; they're so popular that a lot of cruising boats now come with cabintop racks to hold them. But just when you thought you've seen all there is to see in SUPs, BOTE has come up with something new: an inflatable SUP with a 6-hp Mercury outboard. You no longer have to do all the paddling yourself. Instead, turn on the Merc and you can go up to 100 miles at speeds up to 18 mph.
BOTE's new Rover Aero inflatable SUP is nothing if not versatile. You can use it as a regular SUP for fun and recreation and paddle away to your heart's content. If you're cruising, you also could use it as a dink or as a way to reach into those shallows that lie beyond the reach of your regular boat. You even can outfit it for fishing.
The Rover is 12'6" long and it can hold up to 500 pounds. It might be pretty crowded for two adults, but you certainly can take yourself, a child or a dog, for example, and explore the next lagoon or creek along your route. The best part is that it comes in a Rover Aero travel bag, which has wheels, and is compact enough to fit easily in your cockpit or lazarette.
The Rover is made with military-grade PVC that the company says is indestructible. Once inflated, it stays completely rigid. To set it up, you roll it out and inflate it with the AeroGo rechargeable electric pump; there's also a hand pump for emergencies. The Rover comes with an adjustable paddle with an ABS edge blade; you can adjust the shaft to make paddling easy for yourself – that is if you don't want to turn on the outboard. The Rover, with the travel bag, pump, shaft and fin, costs about $2,500, plus the motor. For more:
Boteboard.com