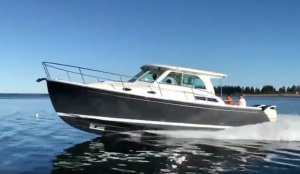 The beautiful, fast and light Palm Beach GT50 and the new twin outboard-powered Back Cove 34O were just named best new powerboats at the Newport International Boat Show. The Palm Beach GT50 was named Best New Powerboat at the show, as well as Best New Powerboat Over 35 feet. The Back Cove 34O was named Best New Powerboat Under 35 feet as well as winner of the show's annual People's Choice Award.
More than 400 powerboats are on display at the four-day show. A panel of five judges visited more than a dozen new powerboats to determine the awards on Thursday, the opening day of the show. The awards were made at a breakfast ceremony today.
The Palm Beach GT50, developed by Palm Beach and Grand Banks CEO Mark Richards, is elegant, fuel-efficient and, as the judges said, just plain "sexy." It's long, low and sleek. Powered by twin 600-hp Volvo IPS800s, it tops out at 42 knows. It has a low center of gravity, and it burns just 24 gph at a cruising speed of 25 knots.
The Back Cove 34O, the first outboard boat made by the traditional Maine builder, was one of the most popular boats at the show yesterday. Until this boat, all Back Coves were powered by single diesels. Designed as a couple's cruiser, the new Back Cove 34O, with its appealing Down East lines, tops out at 37.5 knots when powered by standard twin 300-hp Yamahas, and 40.5 knots when powered by twin 350-hp Suzukis.