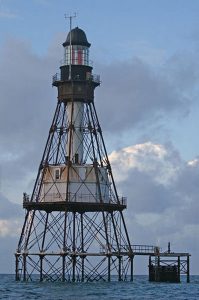 Who doesn't love a lighthouse? Well, the federal General Services Administration, for one. The Coast Guard has designated six lighthouses in the Florida Keys as "excess," so the GSA is looking to unload them. A lot of people are not happy about that. Read the full story in the Miami Herald:
From Carysfort Reef off Key Largo to Sand Key in the Lower Keys, the future of five of the six lighthouses that once kept ships from crashing into the Florida Keys' coral reef is uncertain.
The U.S. Coast Guard, which oversees the lighthouses, has declared Carysfort, Sand Key, as well as Alligator Light off Islamorada, Sombrero Light off Marathon and American Shoal off Sugarloaf Key in the Lower Keys, "excess," meaning they are no longer needed.
This means the Government Services Administration, which manages procurement and real estate for the federal government, is looking to unload the historic sites for free to either a non-profit agency or to another government entity, Adam Rondeau, regional public affairs officer for the GSA, said in an email this week.
"GSA understands that lighthouses are an invaluable part of America's maritime heritage and cherished by their local communities," Rondeau said. If no agency or non-profit wants the lighthouses, the GSA will sell them through a public auction, said Rondeau. "The disposition of these lighthouses will be conducted in accordance with the National Lighthouse Preservation Act," Rondeau said. …
Although they're being offered for free, maintaining 150-year-old lighthouses is a highly costly, labor-intensive endeavor. And, unlike most lighthouses, like Cape Florida Lighthouse on Key Biscayne and the St. Augustine Light Station, which were built on land, the Keys lighthouses are in the Atlantic Ocean, bolted to the coral reef.
That means an added level of expertise and funding from anyone looking to take over their care. Read more:
http://amp.miamiherald.com/news/local/community/florida-keys/article219848205.html?fbclid=IwAR1pRXKJyTGDUFf3WswHcZvRGPV1TjGOEHlSD9F6o1tMjRu5bebqzr_YBME