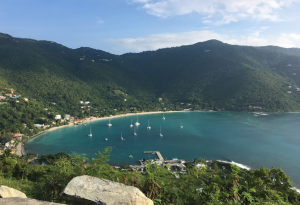 Here's some really good news if you're heading for the British Virgin Islands any time soon. Pusser's will open a restaurant, bar and company store at Myett's Hotel on the beach at Cane Garden Bay. The new Pusser's will replace Myett's existing restaurant there, and will open around the end of November.
Cane Garden Bay is on the northwest side of Tortola, basically across from Jost Van Dyke. It's one of the prettiest spots in the BVI, which is so full of pretty spots that it's become a worldwide cruising and chartering favorite. The area was hit particularly hard by the hurricanes last year, but has since bounced back. The announcement of the new Pusser's, by Val Rhymer, the owner of Myett's, is another sign of that recovery.
Pusser's and Myett's announced that they have formed a partnership, Pusser's at Myett's, to develop the new restaurant and a Painkiller Rum Bar on the beach. Their announcement said that the Painkiller Rum Bar will serve more drinks than the Painkiller, but I think it's fair to say that Pusser's infamous Painkiller will more than hold its own. Myett's hotel itself is still undergoing renovations, but it's expected to be up and running by the end of November.
Cane Garden Bay is known for its sugar-white sand beach, spectacular sunsets and colorful bars and restaurants along the shore. And then there's Jimmy Buffet's line in Manana, where he sings, "I hear it gets better, that's what they say, as soon as we sail on to Cane Garden Bay." Read more:
https://www.bvitraveller.com/pussers-myetts-cane-garden-bay/?fbclid=IwAR2oaOoccWE20UjAaxe4RlpwCFgunsSezfx-7AjIkQs3_kD9-UmMUPgTkbw