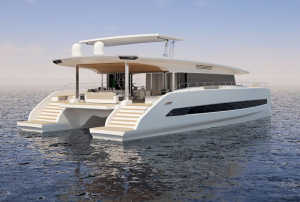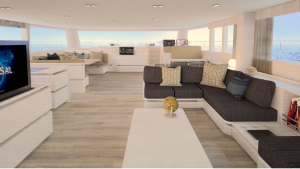 Silent Yachts is building its new ocean-going Silent 79 solar-powered catamaran, a long-range cruiser with unlimited range at 6 or 7 knots and a top speed of 20 knots. The luxurious cat with a minimalist design is Silent's largest solar yacht yet, and is designed after the Silent 55, which made its debut at the Cannes Yachting Festival this past September.
An Austrian company, Silent is building its first three 79s at an Italian yard in Marotta, near the major shipbuilding town of Ancona on the Adriatic. The first is scheduled to be launched in 2020.
The standard Silent 79 will have two 50kW electric engines in its cruiser version, while the E-power version will have much more powerful twin 250kW engines to produce the 20 knot top speed. The boat has 70 solar panels on the flybridge with a 240 kWh battery capacity. The boat uses the same lithium batteries as those in a Tesla car, with a capacity for all-night cruising, while a 15kVA inverter provides power for appliances. With its solar power, the Silent 79 is self-sufficient, quiet, and smoke- and vibration-free. It leaves no carbon footprint.
Michael Köhler, the founder and CEO of Silent Yachts, says the 79 was designed for comfortable and safe long-range cruising, even for months at a time. He also said the styling "is minimalist, ergonomic, muted and at the same time luxurious and refined to perfection."
"Solar power is about square meters, so we need to dedicate as much surface to the solar panels as possible while keeping the overall balance and shape," said Marco Casali, the boat's designer. "In my opinion, we managed that with the Silent 79. What I tried to achieve is an interesting Italian design, sophisticated and refined."
The exterior lines are clean and straight, with lots of large windows capable of filling the interior with natural light. Large, outdoor spaces, fore and aft, provide social relaxing and dining areas. The main deck centers around the salon, with a galley, dining area and lounge. Since the boat's beam is a massive 36 feet, there is extra space all around. Several layouts are available on the lower deck, which can hold four to six cabins, including an oversized owner's cabin with a private office. Since there is not a traditional engine room, the garage aft is large enough to hold a 15-foot tender and various water toys.
The Silent 79 also will be offered in a Hybrid Power version, powered by two diesel engines combined with the electric motors, batteries and solar power. Price for the base boat is about $3,880,000.
Specs.: LOA: 78'5"; Beam: 36'0"; Draft: 4'1"; Disp.: 96,000 lbs.; Fuel: 792 gals.; Water: 264 gals.; Power: 2x50kW electric motors.