A 52-foot fishing trawler capsized and sank just after midnight on New Year's Day in 10-foot seas and 30-knot winds near Block Island, Rhode Island. A nearby fishing boat picked up one crew member but the other two were missing despite a massive search effort by the Coast Guard and local good Samaritan vessels. The Coast Guard suspended the search effort after two days.
The first sign of trouble came at 1:30 a.m. when the captain of the Mistress, based in Point Judith, sent a Mayday call to the Coast Guard saying the boat was taking on water. It was 2 ½ miles southeast of Block Island near the offshore wind farm there at the time. The Coast Guard sent out an urgent marine broadcast asking all other vessels in the area to help.
As it happened, another fishing boat, Captain Bligh, was nearby, and was able to rescue one crewman from a lifeboat. Andrew Arnett, captain of the Captain Bligh (pictured above), said he reached the site of the Mistress at 2:30, but all he found was a debris field with a tangle of wood, life rings and the boat's EPIRB. Arnett told the Providence Journal that he calculated the wind and tide and searched through the night gloom until, after an hour, he saw a faint light. It was coming from a lifeboat with one of the fisherman, Tim Diaz, on board. The other two men, Oscar Diaz, owner of the Mistress, and John Ansay, his nephew, were missing.
Tim Diaz later said that all three jumped overboard when the boat started to list, but they got separated. He wound up on one side and Oscar Diaz and Ansay were on another. Water then poured over the stern and the boat sank.
The Coast Guard sent a total of three large cutters, a 47-foot lifeboat and a 45-foot response boat to the scene, plus a Jayhawk helicopter and an Ocean Sentry fixed-wing airplane. During the night and the next morning other fishing boats also joined the search.
Three years ago, on Jan. 9, 2016, the Mistress also needed Coast Guard help after it suffered an engine failure 70 nm east of Montauk, New York. The Coast Guard towed it part of the way back (see the picture below), until its owner arranged for another fishing boat to bring it all the way home to Point Judith. Read more: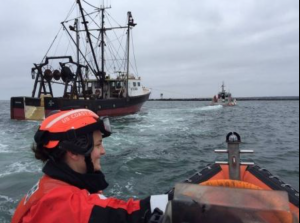 https://www.southcoasttoday.com/news/20190102/coast-guard-suspends-search-for-2-missing-fishermen-whose-boat-sank-off-block-island
https://content.govdelivery.com/accounts/USDHSCG/bulletins/225c1c6