Where in the world to go this year? Bloomberg answers that with a list of 21 destinations around the globe that will be hot with travelers for a lot of reasons – growing cachet, new resorts, new restaurants, and new transportation possibilities that open up places that were simply too hard to get to in the past.
Some places on the list are hardly a surprise: Paris, anyone, or even Ibiza in the Balearics (see the picture at the top). But how about Pantanal, in Brazil (certainly new to me)? Bloomberg also gives a shout-out to both Savannah, Georgia, and Fort Lauderdale, two long-time cruising favorites whether you're heading north or south on the east coast.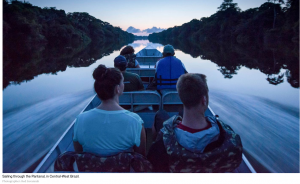 Pantanal, pictured above, is the largest wetland in the world, and it's the home to more than 1,000 species, including stalking jaguars, flaming-like spoonbills, tapirs, and lots of butterflies. It's in central-west Brazil and has been hard to reach. But now you can cruise through the tributaries of the Paraguay River on a small but luxurious expedition ship that has 10 glass-walled suites, a pool on the upper deck and Zodiacs for exploring. Don't go in the wet season, from November through April; the plains are flooded then.
Savannah, according to Bloomberg, is enjoying a renaissance, with a booming food scene and lots of new small craft-type businesses started by recent grads of the Savannah College of Art and Design. The city has a growing number of Southern-style B&Bs, plus Perry Lane, a new luxury hotel in the historic district, and a JW Marriott that will open in June on a 4.5 acre site with restaurants, shops, concert halls and art galleries. The Savannah Music Festival is at the end of March, but any time you're cruising on the ocean or the ICW you can stop in Savannah and tie up along the riverfront for a night or long weekend. And it's only an easy day's cruise from Charleston, a great destination in its own right.
 Bloomberg also chose Fort Lauderdale, one of the major, if not the major, boating centers in the United States, because it says it has "the ease of a Miami getaway without the 24-hour party vibe." It also cites the new Dune Restaurant from the Auberge Resorts Collection, with charcoal-grilled dishes and Napa wines, and the new Hotel Dalmar in the heart of Las Olas with a rooftop bar run by New York's Death and Co. And if you have to get to Miami, it's only 30 minutes away on Richard Branson's new  fast Virgin train. Read more:
https://www.bloomberg.com/news/features/2019-01-02/where-to-go-in-2019-best-places-to-travel