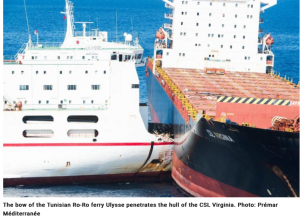 If you're wondering how a 528-foot ro-ro ferry hit an anchored 964-foot container ship in the Med last October, driving its bow into the container ship's starboard hull so far that the two vessels remained tethered together for three days, the answer is easy. No one was paying attention. Indeed, an international investigation just said the collision was caused by "human error" involving officers from both ships.
The accident occurred just before dawn on Sunday, October 7, about 17 miles north of Corsica. The Tunisian roll-on, roll-off ferry Ulysee, with a top speed of 19 knots, was underway from Genoa to Tunisia. It T-boned the Cypriot ship Virginia, which was anchored at the time.
At the end of the investigation, Yousef Ben Romdhane, the director general of sea transport for Tunisia, said that at the time of the collision the captain of the Ulysee was busy "making private telephone calls. He was far from the radar screen that warns of danger. He was alone."
On the other hand, he said, the Virginia was anchored in a sea lane. Romdhane told AFP that "this is the first time a ship had dropped anchor in this location…on a sea lane used by merchant ships." He also said the officers on Virginia did not pay attention to their radar alarms.
No one was injured in the collision, but the Virginia leaked bunker fuel oil; an oil slick spread for more than 15 miles. Damage to both ships was estimated at $15.5 million; the cleanup cost $11.5 million. Read more:
https://gcaptain.com/human-error-idd-in-mediterranean-ro-ros-collision-with-containership/?utm_source=feedburner&utm_medium=feed&utm_campaign=Feed%3A+Gcaptain+%28gCaptain.com%29&goal=0_f50174ef03-117357c0b5-139841865&mc_cid=117357c0b5&mc_eid=fd2798f293