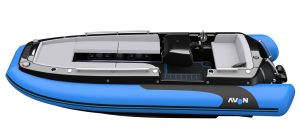 Torqueedo and Zodiac have just launched a 31-knot, all-electric Avon eJET 450 tender, powered by a Torqueedo Deep Blue 55kW motor and a BMW i3 battery. The new Avon is quiet and does not use any fossil fuel. It is designed to appeal to the yacht market, where owners would not have to worry about carrying fuel or oil for the tender, but it serves equally well as a sport boat or a runabout.
The eJet 450 has head-snapping acceleration from the Torqueedo's instant torque, and benefits in speed and range from proprietary Hydrojet technology developed specifically to work with the Torqueedo and the BMW battery. It runs for 90 minutes at 23 knots, or eight hours at 5 knots.
The new Avon is 14' 8" long with a 6' 6" beam. It weighs 1,874 pounds and can carry six passengers. It's made with high-quality Hypalon fabric and has an open deck  plan. It also has electrically retractable seats designed by Serge Ferrari with a quilted finish that's sewn by hand in France.
Avon is making a limited number of the eJET 450s, with the first delivery scheduled for May. You can reserve one with a deposit of $34,000. For more: