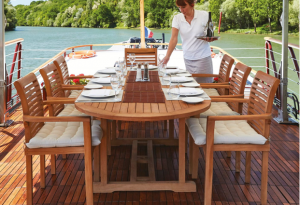 If you want a different kind of cruise this summer, one where you can relax while someone else does the driving, cooking and planning, you might want to take a look at the Belmond River Cruises in France. They're luxurious, relaxed, and they wind through some of the most beautiful parts of the French countryside.
Belmond, a luxury hotel and river cruise operator, has a fleet of seven barges in France, offering a variety of routes and experiences. The Hirondelle, pictured above, has four staterooms, all with en suite heads and showers, and it cruises through the heart of the Champagne region, starting in Chalons-en-Champagne and ending in Epernay.
This route goes along the River Marne and the Canal Lateral a la Marne. Passengers can visit Reims and the Gothic cathedral there, enjoy wine tastings at world-famous Champagne houses, visit battlefields and memorials from the First and Second World Wars, wander through chateau, or simply walk or ride the boat's bikes along the towpaths.
The Hirondelle was built as a Dutch cargo barge in 1928 and now has been transformed into a luxury canal cruiser. It has a large salon, a sun deck with lounges and a hot tub. It's air-conditioned throughout. And it has a staff of four, including the captain, chef, tour guide and hostess. Weather permitting, dining is al fresco on the upper deck under a canopy, and there's local wine, French cheese and artisanal fare that the chef picks up from markets along the way.
The cruise starts with a champagne reception; it ends with a visit, and champagne sampling, from the house of Moet & Chandon. For more:
https://www.belmond.com/river-cruises/europe/france/belmond-afloat-in-france/