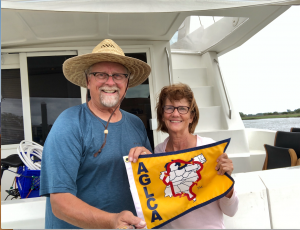 Every morning for 340 days, Dale and Merna Hartwig from Grand Island, Nebraska, woke up on their 2002 Navigator 4000 and asked each other, "Is this a good day for a boat ride?" He wrote me that, "if the weather/seas/destination were ok, then we went. If they were outside our 'good day' parameters, we simply stayed another day where we were and enjoyed the area."
The Hartwigs found enough good days – 153, in fact – that they just completed the Great Loop, crossing their wake in Savannah, Georgia. All told, they cruised 6,200 miles and went through 123 locks, generally traveling about 50 miles a day at 8 mph. And they loved it.
"Where ever we went we met incredible folks and experienced countless wonders following the waterways that developed our nation," Dale said. "The history everywhere was amazing."
Like many powerboat cruisers, the Hartwigs are former sailors. Over the years, he said, they "migrated from inland lake sailing to coastal sailing," cruising out of Oriental, North Carolina, for six years before he retired. After his second hip replacement, they made the transition to powerboating.
The Hartwigs heard about the Loop, and joined the America's Great Loop Cruisers' Association. In the fall of 2017, they bought the Navigator, named it The JOURNEY, and took some shakedown cruises. On March 1, 2018, they headed north from Savannah, starting their own Loop experience.
"Life is an adventure," he said. "Our Loop was everything we hoped for and more" Their favorite spots: Georgian Bay and the North Channel – "It's so pristine and unspoiled, with breath taking beauty" –  and the Erie Canal – "It has so much history and the scenery is spectacular. The biggest surprise: The Tennessee and Kentucky rivers and lakes: "I had no idea how beautiful that area is."
On their adventure, the Hartwigs met a wide variety of other cruisers, young and old, couples and families and people doing the Loop by themselves. Dale says, "Almost anyone with a bit of adventure and a willingness to engage can do the Loop. The Loop is a series of 'good days for a boat ride' one after another."
They now have The JOURNEY up for sale, but they want to buy a smaller boat and do more cruising. "We want to continue to enjoy leisurely meandering along our nation's waterways," he said. "We're not done yet, not even close." You can read the Hartwig's blog about their trip at: www.journeysway.net