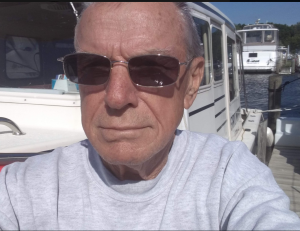 Mission accomplished. John Hauck, 80, a retired Army special forces major and helicopter pilot, just finished the Great Loop, arriving back home in Demopolis, Alabama, 110 days and 6,303 miles after he left. He put 416 hours on the twin 150-hp Mercury outboards that drove Grumpy, his RF-246 Rosborough, and said they "performed flawlessly."
Hauck did the Loop solo, except for 21 days when a lady friend joined him, from the Erie Canal to Ludington, Michigan, on Lake Michigan. He says if he does the Loop again, it would be nice to have company onboard.
Hauck's journey was a major personal accomplishment, but it also has some lessons that apply to the rest of us, particularly anyone thinking about tackling the Loop or any other major cruise. Here are a few things to remember:
You don't need a big boat. Grumpy is just under 25 feet.
You don't need a new boat. Grumpy is a 2003 model, and Hauck bought it used.
You don't need a big crew. Indeed, if you're an experienced boat owner, you can do it yourself, except that you'll need help in some of the canals. Cruising solo does demand extra diligence and experience, however, and it definitely is not for everyone. And it's a very good idea to have an extra pair of eyes on board, particularly when you're going fast and you get tired – and you will get tired.
You need to know what you're doing. Hauck has been boating and cruising all his adult life. He knows how to fix things. He was the pilot of a helicopter gunship with the 101st Airborne in Vietnam, so navigation was not a problem, although he did hit a submerged wall near Wilmington, Delaware; repairing the outboards' lower units took 17 days.
You need a solid, well-found boat. You don't want things to disconnect or break loose on the Jersey Shore, or anywhere else, for that matter. The Rosborough performed perfectly.
You can trade speed for time. When the weather was bad, Hauck was able to sit in port and wait it out. But then his 21- or 22-mph cruising speed allowed him to eat up some miles once conditions cleared.
You don't need to commit a huge portion of your life to complete the Great Loop. If you subtract the 17 days for repairs, Hauck spent 93 days on the Loop. Other people take anywhere from six months to several years to finish the Loop, enjoying side trips to historic spots, or simply cruising at trawler speeds of 8 knot boats or so.
Both types of cruising are equally enjoyable. I've done them both, taking a month to cruise my Grand Banks 36 trawler from Miami to Connecticut, and then cruising from Miami to Maine in five days on a Tempest 38 speedboat with my friend Jerry Berton, where every day was an adrenaline rush as we ticked off the miles, often offshore. Both types of cruising are fun; very different, but fun.
For his part, Hauck wrote that "the end is bitter sweet…but I must come back to the real world. Now I feel I don't belong here, but back on Grumpy, looking to see what is around the next bend."
Read more on Hauck's Facebook page: Grumpy Does the Great Loop 2019.