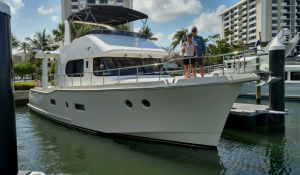 In a recent email, I asked Larry McCullough, an experienced boat owner who's now about half way through the Great Loop with his wife Jamie, why they had bought hull number one of the Nordhavn 59 Coastal Pilot. "Yesterday was a good example of why Nordhavn," he replied. "We are in Lake Michigan, which can be very treacherous. NOAA was calling for three-foot seas but the wind picked up more and we were in some seven-footers that were very close together. I must say the boat handled it better than some of the crew."
McCullough, a retired stockbroker from Tiburon, California (across the bay from San Francisco), knows what he's talking about when he's talking about boats. Over the years, he's owned a Donzi 21, Cobalt 23, Silverton 35. Uniflite 42 and a 35-foot trawler. He lived on board the Uniflite at Pier 39 in San Francisco for a few years.
And then he started thinking about the Great Loop. Jamie wrote in their blog, independence59.com, that when she met Larry 20 years ago "he told me about the dream of his to find the perfect boat and to do a trip called the Great Loop." Then, a few years ago, they sold their second home, and the Loop seemed a lot closer.
As it turned out, McCullough had been following Nordhavn for about 15 years, and a 62 caught his eye. "The more I learned about the seaworthiness of the boat the more I wanted one," he wrote. But he wanted more speed than the 62's trawler displacement hull could provide.
Then he saw renderings for Norhavn's new 59 Coastal Pilot. Powered by twin 715-hp Cummins QSM-11 diesels, it had a projected 20-knot speed. The McCulloughs went down to the Nordhavn headquarters in Dana Point, California, studied the plans, and signed up for hull number one.
They took delivery of the Coastal Pilot in the summer of 2018, in Jupiter, Florida, named it Independence, and last November took their first cruise over to the Bahamas. They were hooked. After many trips back and forth to California, they started the Loop in April, thinking it would take about nine months.
Now, as they're about to cruise across Lake Michigan to Chicago, McCullough thinks he made the right decision. "Even though we run the boat at about 8 or 9 knots most of the time," he wrote me, "I love knowing that if I want a bridge opening or to try to out run a storm, I have extra power. It was nice having the extra power going around Manhattan on the East River at Hell Gate with a 5-knot current, or going up the St. Mary's River to Lake Superior fighting a 3-knot current."
The Coastal Pilot holds 1,100 gallons of fuel, which gives it all the range McCullough needs. And it's still fuel efficient. In fact, he says the boat averages just under one nautical mile per gallon, including generator time, on the Loop.
So far, the Loop has been everything the McCulloughs hoped for. "Cruising up to the Statue of Liberty and seeing Manhattan will be something we will never forget," he wrote. Their favorite cruising ground: Lake Huron, specifically Georgian Bay.
For the McCulloughs, the Great Loop almost seems like a warm-up cruise. They plan to go to the Bahamas in January and February and then cruise down to Key West and over to Isla Mujeres in Mexico. Then it's down to Panama where they'll leave the boat for the next hurricane season, and then through the Canal and up to Baja California where they'll keep the boat for a season or two. The Coastal Pilot will be stretching its legs. Read more: