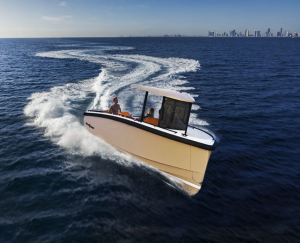 DutchCraft, the innovative builder from The Netherlands, will launch its new all-electric, carbon-fiber, multi-purpose DC25 at the Düsseldorf boat show, starting Jan. 18. The 26-foot, 3-inch boat has a top speed of 32 knots. At that speed, it has a range of one hour. Dialed back to 6 knots, the DutchCraft has a range of six hours.
Designed in-house by DutchCraft, a sister company to Zeelander, the DC25 can be just about whatever you want it to be. It has a modular design, where parts can be swapped out for other parts, so it can serve as a dive boat, a fishing boat, a picnic boat, a toy carrier, a family day cruiser, a yacht tender, whatever.
"There is nothing like it in the size category," says Floris Koopmans, the company's director of sales and marketing. "The sheer capacity and range of uses is phenomenal."
The boat has a low and compact drive train, so it also has an exceptional amount of space on deck. Aft of the center console, furniture and fixtures can be changed along double deck railings, creating space for padded bench seating, for example, or custom dive racks. When the deck is cleared, there is enough room to carry a small land vehicle or a pair of jet skis.
As a superyacht tender, the DC25 can be loaded up with toys and accessories, or enough provisions for a full day on shore. If you want to use it as a shuttle, you can add padded benches to carry as many as 12 passengers.
The boat's high sides provide a sense of safety and protection. And it has some creative touches, fore and aft. The bow is hinged and can drop down so passengers can step off onto a beach without getting wet (the boat's 2' 6" draft helps here), while aft the stern bulwark converts to a swim platform.
The fully electric drivetrain is silent, with zero emissions. Standard power comes from an 89kWh battery; a 112 kWh and 135kWh are options. The boat's hardtop, offering protection for the captain and mid-ship passengers, has an air draft of just 11 feet, but it can be dropped down to 6' 4" when it is stowed.
Base price for the DC25 is about $306,600.
Specs.: LOA: 26'3"; Beam: 7'8"; Draft: 2'6"; Disp.: NA: Fuel: NA; Water: 9 gals. (optional); Power: 89kWh battery, standard.