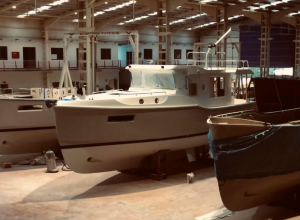 Nordhavn is putting the final touches on its new 41, and will launch it soon. The 41, the successor to the 40 that went around the world in 2001 and 2002, is the smallest vessel in Nordhavn's fleet, and it's the only one made in Turkey. It also has twin diesel engines, a bit of a change for Nordhavn's smaller boats, instead of a single and perhaps a wing engine.
Work on the 41 is almost complete, but the company needs permission from the Turkish government to launch it. Turkey has closed all marinas because of the COVID-19 pandemic, so the actual launching date is probably a few weeks away.
Nordhavns already have more than seven million nautical miles of documented ocean crossings, and the 41 is designed as the company's entry-level passagemaker, meant to be able to cruise anywhere in the world. It is more efficient than the 40, and also will carry a CE rating of Category A, the highest level of safety; that rating requires exceptional stability and commercial-rated windows and doors.
Jeff Leishman, Nordhavn's design chief, worked with Vripack, the Dutch design firm, to create a new hull form for the 41. Vripack used its Computational Fluid Dynamics program to fine tune the hull and reduce resistance, while maintaining the interior volume that makes cruising in Nordhavns so easy and comfortable.
Below, the large master cabin is in the bow with lots of drawer space, a walk-in closet and an en suite head with shower. A second cabin can be tucked under the helm on the starboard side. Extra guests can sleep on the port and starboard settees in the salon. The large L-shaped galley, equipped for cruising, is up, on the port side, opposite the helm with a two-person seat.
Power comes from twin 75-hp Beta diesels; each one can drive the boat to its cruising speed. The props are protected by a long keel. A standard bow thruster makes maneuvering easy, particularly with the twin engines.
Solar panels on the cabintop keep the batteries fully charged. If you're away from the boat for a while, you don't have to worry about the batteries running down or not being able to run the bilge pump.
The 41 comes complete for cruising, with a 12-foot tender on the boat deck and an 800-pound davit. It also has a standard 7/9kW Onan genset, combination washer/dryer, and a four-person Revere life raft.
Specs.: LOA: 41'4"; Beam: 13'11"; Draft: 4'6"; Disp.: 43,300 lbs.: Fuel: 900 gals.; Water: 300 gals.; Power: 2×75-hp Beta diesels.