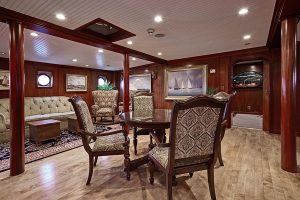 Looking for a new liveaboard? Or perhaps a sturdy, long-range cruiser with a storied past? Then consider the Nantucket Lightship, a floating lighthouse now docked on Boston's Commercial Wharf. It has a steel hull, six elegant staterooms, a 3,500-nm range, a crow's nest, and a double Fresnel lens on its foremast. And it's for sale for $4,950,000.
The 128-foot lightship, WLV-612, was built for the Coast Guard by Curtis Bay in Maryland and launched in 1950. It cost about $500,000 then. The vessel served outside the Golden Gate as the San Francisco lightship and then as the lightship for Portland, Maine. It was stationed on the Nantucket Shoals from 1975 to 1983, and was decommissioned in 1985.
After that, the lightship fell on hard times. The state of Massachusetts bought it for $1,500 in 1987 with the idea of turning it into a museum, but that project never got off the ground. In 1999, the state declared it surplus property and put it up for auction on eBay.
Bill Golden, a former Massachusetts state senator and a nautical history buff, bought it for $126,000, and spent four years restoring it in New Bedford, Massachusetts, turning it into a luxurious floating home. Golden and his wife, Kristen, lived aboard for a while, and they also chartered it out. Now they want to sell it.
If you buy it, you won't worry about having to leave anybody behind. The Nantucket Lightship has 4,000 square feet of living space. The six staterooms all have en suite heads, and there's a day head as well. There's a large modern galley, a dining room with wooden paneling, a library/den, an office, the original ship's wheel in the plot house, even the original captain's poker table.
The lightship is powered by a 550-hp D379 Cat, and it has two 40kW Kohler gensets, and it cruises at 9 knots. The fuel bill could be frightening; it carries 10,000 gallons.
If you anchor out, you'll probably stay put. The lightship has a 7,000-pound mushroom anchor and 800 feet of chain rode. For going ashore, you'll have a 26-foot motorized whale boat for a tender.
Wherever you go, the bright-red boat will certainly attract attention. At night, you can light your way with 24 locomotive-engine headlights on the main mast. And if you want to get anybody's attention, the original fog horn still works; you can hear it for miles.
Specs.: LOA: 128'; Beam: 30': Draft: 11'; Disp.: 617 tons; Fuel: 10,000 gals.; Water: 11,000 gals.; Power: 1×550-hp CAT D379.