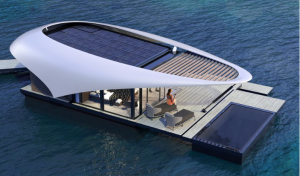 Alva Yachts, an environmentally conscious German company, has just launched a new upscale line of solar-electric power catamarans called Ocean Eco, starting with a 60 and a 90. Alva uses a new manufacturing process to shape and integrate the solar panels into  the coach-roof of the boats, providing the maximum number of panels possible.
The company now has two orders for the Ocean Eco 60 (pictured at top). At their peak output, the solar panels can generate 20kW for the 60. They work with a 300k lithium battery bank to give the boat a range of 110 nm at 7 knots, or potentially unlimited range at 4 to 5 knots. An option of a hybrid system with a zero-carbon hydrogen fuel cell would extend the range.
"We believe the time is now ripe to push forward in the next step towards sustainability afloat," says Dr. Mathias May, co-founder of Alva Yachts. "With our focus on high-end design and superior comfort, we are driving luxury towards sustainability."
Dr. May, a medical doctor with 15 years of experience in yachting, founded Alva Yachts earlier this year with Holger Henn, a yacht designer who previously worked for Bavaria and Hanse. The company is in Bad Pyrmont, Germany, near Hanover. Alva took over Pica Yachts, which had launched more than 40 smaller electric sail and power boats over the past six years.
Alva also makes a sustainable 82-foot sailboat and luxury houseboats aimed at the resort market (see the picture above). The idea with the houseboats is that their advanced solar design allows them to stay off the grid in sunny areas. To keep the weight down on all its boats, Alva uses interiors from a German cabinetmaker that supplies furniture for executive jets. Read more: