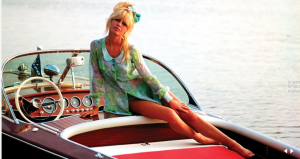 Riva just launched its new, sporty Folgore (Lightning) 88 at its yard in La Spezia, the first new boat since the coronavirus devasted Italy. Alberto Galassi, CEO of the Ferretti Group (Riva's parent company), said the boat was "a dazzling flash of style" and "a tangible sign of a country that starts again."
The company said the new Riva's exterior was inspired by luxury sports cars, and the looks carry on Riva's tradition of glamorous Italian design that dates back to Brigitte Bardot and the Riva she kept in St. Tropez in the '60s (see picture above).
The new Folgore is a collaboration of Officina Italiana Design and Ferretti Group engineering. It combines state-of-the-art building materials, such as carbon fiber, with traditional stylistic elements including mahogany inlays and steel accents.
The Riva 88 has a completely new stern, with a garage door that swings open and then can be positioned parallel to the waterline to become part of the luxe beach club, or submerged, to allow the launch and retrieval of the tender.
The boat's cockpit has a large lounging area with a table and bar and wood, steel, marble and glass accents. Inside, the galley is separate, per the European style, with its own entrance for maximum privacy.
Below, the boat has space for up to eight guests. Riva offers three different configurations of the master stateroom. Other staterooms include the VIP cabin in the bow and two side cabins, all with en suite  heads and showers.
A glass hardtop on the superstructure is a new design element. It can be opened and tilted toward the bow or stern to let in fresh air underway or at anchor. We'll have more details about the boat as they become available. Read more: