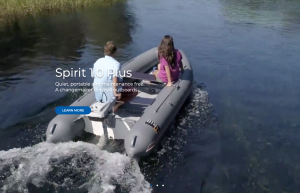 The innovative ePropulsion Spirit 1.0 Plus 3-hp electric outboard is now available in the United States. Mack Boring is the distributor on the East Coast; Four Seas on the West Coast.
The new outboard is lightweight, easy to use, and produces no vibration, emissions or exhaust. The company says it provides enough power to match a four-stroke 3-hp gasoline outboard, and that it's capable of powering a 10-foot tender or up to a 3,000 pound daysailor.
Better yet: It floats!
The ePropulsion outboard has an innovative prop design and significant battery capacity. Indeed, it has a 1276Wh battery, the largest available for a motor this size, according to the company. It can reach a top speed of 5 knots with a range of 6.4 nm. That translates to one hour and 15 minutes of running time at full speed; at lower speeds, that time can be extended to 26 hours and a range of 46 nm.
The outboard and battery are easy to manage and carry from ship to shore. The battery weighs 19 pounds; the motor, 24 pounds. They can be stored in customized bags.
The batteries can be changed in just one minute. Charge time ranges from 3.5 to 8.5 hours, depending on the charger.
The outboard is virtually maintenance free. Its direct drive means a reduced number of parts. It comes in three shaft sizes: extra short; short, and long. It is covered by a two-year warranty.
The company was founded in 2012 by four engineers at Hong Kong University who thought they could design a better electric outboard. The ePropulsion Spirit 1.0 Plus costs $1,999, including the battery. Read more: