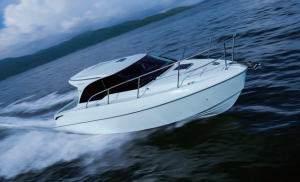 Toyota and Yanmar have joined forces to create a hydrogen-powered, zero-emissions concept yacht. The new boat uses the high-pressure hydrogen fuel-cell from Toyota's Mirai sedan as its powertrain. The two companies say the yacht will have smooth, emission-free cruising with "a superior cruising range."
For its part, Yanmar says its goal is to develop an environmentally friendly hydrogen fuel-cell system for a variety of marine vessels. It hopes to install the new H2 system and start demo testing later this year.
The Mirai system is well-proven in the automotive market. Toyota launched its Mirai (which means "future" in Japanese) sedan in 2014. It was the first hydrogen-powered, mass-produced car, with a range of 312 miles, and it cost $57,500 in the U.S. Since then, Toyota has sold more than 6,200 of them here.
Earlier this year, Toyota incorporated Mirai's hydrogen fuel system in Energy Observer, a 100-foot catamaran. The fuel cells converted raw seawater to hydrogen. The cat completed a 5,000 nm, non-stop, transatlantic cruise.
Toyota also has worked with Yanmar before. In 2016, Toyota launched the Ponam-28V premium sports cruiser (pictured above), and sold it through a network of 50 dealers in Japan. The boat was powered by the four-cylinder diesel engine from the Toyota Land Cruiser Prado; the hull was developed by Yanmar. Read more:
https://www.yanmar.com/global/news/2020/06/04/75041.html