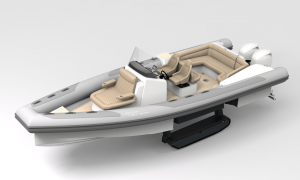 Iguana's amphibious RIBs made quite a splash when they were first introduced to the United States at the Fort Lauderdale boat show in 2019. And not only in the U.S. So far, Iguanas with deep-V hulls to cruise through the water and tractor drives to climb onto beaches on land, have been tested on all six continents of the world. Now, Iguana is launching a new, improved luxury model, called the Iguana Knight.
After its initial success, said Antoine Brugidou, the French company's founder and president, "Iguana experienced an unprecedented demand for a more luxurious RIB built to a higher specification. That's why we launched the Iguana Knight, in order to enhance waterfront properties, support superyachts as a chase boat, or be integrated on board as a tender to a megayacht."
It's also designed for anyone who wants a fast (48 knots), safe, stable, blue-water ride without having to bother with a slip or a marina. If you have waterfront property, keep the Iguana in your garage and drive it down to the beach. The boat's tractors, and a 15kWh electric motor, propel it to speeds up to 4 mph on land.
And you don't have to get wet, or even touch the water, to climb on and off the Iguana. Push a button and a sturdy boarding ladder deploys from the transom. Once the boat's in the water, push another button and the tractors retract into the hull.
The new Iguana Knight has a "comfort pack" to make live easy on board. It also has touchscreen electronics, premium upholstery, a V-berth below and a marine head. A convertible top keeps passengers (as many as a dozen at a time) cool and in the shade.  The Knight comes in five colors.
The first Iguana Knight is scheduled to leave the factory in Caen at the end of July.
Specs.: LOA: 31'0"; Beam: 11'0"; Draft: NA; Disp.: 7,495 lbs.; Fuel: 132 gals; Water: NA; Power: 2×300-hp outboards. Read more:
The Knight is too new to have a video yet. But you can see the earlier model of the innovative RIB below: