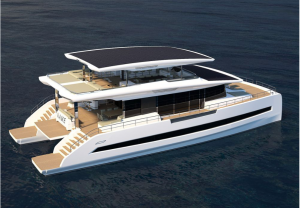 Silent-Yachts keeps on updating and improving its massive, luxurious, 80 Tri-Deck solar-powered catamaran. It now is offering new versions with a raised deck and larger windows for guests' comfort and enjoyment underway, and a larger toy garage for more fun once they've stopped. The latest version, called the Loft, has a completely flush main deck, from the fore deck through the salon to the cockpit, to make moving around the yacht as easy as possible.
Silent-Yachts, an Austrian company, has already sold four new yachts and has another eight under construction. But it keeps making changes in response to clients' wishes and market trends.
"We believe that people are looking for more and more adventure in yachting," said Michael Köhler, the company's founder and CEO. "New versions of the Silent 80 will enable owners to take an amazing number of toys and provide them with great extra features like larger windows, flush main deck, new layouts for the main salon and much more."
In the new version, Silent has raised the cockpit and salon floor up more than a foot. The headroom will be the same, however, since the roof will be raised by the same amount. Meanwhile, the side windows have been enlarged a foot; electric sliding windows are an option.
With the yacht's 35' 9" beam, the salon is huge. It now measures 30 by 23 feet, and owners can bring their own sofas, loose chairs and tables to customize the interior. (The Raised Deck version is shown at the top; the Loft is above.)
Silent 80s are powered by twin 250kW electric motors working with 64 solar panels, producing 25kWp with a battery capacity of 280kWh. They use the same lithium batteries as those in a Tesla. For cruising at night, a 20-kVA inverter provides power for all household appliances.
The big cat's cruising speed is 6 to 12 knots; it tops out at 16 knots. Under solar power alone, it can cruise 100 nm a day.
Specs.: LOA: 79'7"; Beam: 35'9"; Draft: 4'1"; Disp.: 60 tons; Fuel: 792 gals; Water: 264 gals.; Power: 2/250kW electric motors. Read more: