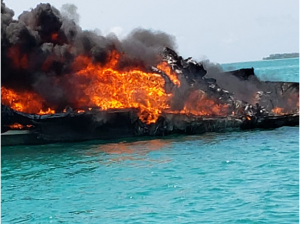 A fire at a dock at Valentines Resort and Marina in Harbour Island, Bahamas, completely destroyed a 66-foot Sunseeker. The five people on board all escaped without injuries.
Harbour Island police say they received a call at 12:35 on Saturday afternoon saying that a boat was on fire at the marina. When they responded, the boat was fully engulfed in flames. A captain from another yacht told The Triton, "I was walking by and the galley window blew out. Smoke and flames followed. I helped the captain with the tender," which was saved.
After the five people on board were off the yacht, volunteers pulled it away from the fuel dock. It sank a few hours later. Reports said  about 100 feet of dock were destroyed. Water and electric service at the marina were interrupted. The marina will not have fuel available until it makes some repairs. Authorities are investigating the cause of the fire.
The yacht, named Vanish, was owned by Alejandro Capo of Miami. He, his family and a captain arrived at Valentines shortly after the Bahamas reopened to recreational boating on June 18.
Valentines, in Dunmore Town, is the largest marina in Harbour Island. It has 51 slips and can hold yachts up to 180 feet. Over the years, I've been there several times, and always looked forward to going back. Read more:
http://eleutheranews.com/?p=22565
https://www.the-triton.com/2020/06/fire-destroys-sunseeker-in-bahamas/?fbclid=IwAR3pNw5V02ujIY2eb9lGF-oiewmBtm9syEL2IEqyxKu8ILPMJMTSAcC82bg