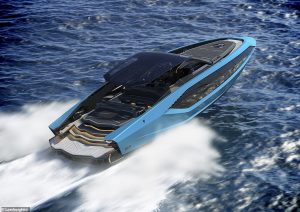 Lamborghini and Tecnomar just introduced a new 63-foot, 4,000-hp, "Lamborghini on the water" that tops out at 60 knots and is designed to remind owners of how iconic a Lambo is – on land or on water.
The new water-borne Lambo is a collaboration between the luxury Italian sports car builder and the Italian Sea Group, which is the parent company for Tecnomar. It's named the Lamborghini 63 – to recognize both its length and 1963, the year that Lamborghini was founded.
Giovanni Costantino, CEO of the Italian Sea Group, says the Lamborghini 63 is the fastest boat in the Tecnomar fleet, and it "links technology, supreme design, quality, and performance." For his part, Stefano Demenicali, chairman and CEO of Automobili Lamborghini, said, "If I had to imagine a Lamborghini on the water, this would be my vision."
The boat's two MAN diesels each produce 2,000 hp; each weighs 5,247 pounds, which is heavier than a Lamborghini Urus SUV. The boat itself is lightweight and made with carbon fiber. It weighs in at 48,000 pounds.
The boat's lines and interior are all taken from Lamborghinis. The hardtop, for example, offers protection from the elements but it also contributes to the boat's aerodynamic look – just as the cars do. The bow lights are from one Lambo; the aft deck is made to look like a Lambo hypercar.
There are two racing-style bucket seats at the helm. The boat's steering wheel is the same as a Lambo steering wheel; the on/off ignition switch is the same as those on Lambo cars. And the boat's Carbon Skin on the seats and the dash is the same as on the cars.
The first hull of the new Lamborghini 63 will be launched next year. There's no price set yet, but as the saying goes, if you have to ask the price…
Meanwhile, the Lamborghini-Tecnomar collaboration seems off to a good start. "This motoryacht will become as futuristic an icon as the car she is inspired by," said Costantino. See a fun video below:
https://www.thisismoney.co.uk/money/cars/article-8475389/Lamborghini-releases-4-000-horsepower-superyacht.html#v-5793943670333618633