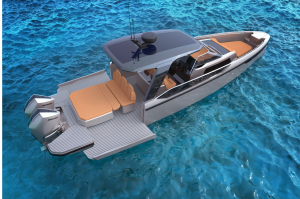 Here's a new boat that's bound to get a lot of attention at the boat shows this fall, because of its looks, its pedigree, and its price.
Take a first look at the head-turning Saxdor 320 GTO from the new Finnish company, Saxdor Yachts, founded just last November by Sakari Matilla, who previously was a founder of Axopar and several other boat companies. The Saxdor 320 GTO also is a product of the award-winning firm of J&J Design, which has worked on some of the best-selling sail and power boats for the past 36 years. And the Saxdor 320 GTO comes with a base price of about $101,000 plus VAT for its single Mercury 300-hp model, with a 38-knot top speed. Move up to twin Merc 300s, and the boat tops out at 50 knots.
Matilla, who left Axopar in 2018 after it became the best-selling brand in Europe as well as an instant hit in the U.S., says he built the new Saxdor because "I have always admired Italian design, American functionality, and French pricing. With the 320, the aim is to incorporate these attributes and combine them with the Scandinavian way of boating."
The 320 is Saxdor's second model. It introduced a 20-footer a few months ago. The boats will make a debut at the Cannes show, starting on Sept. 8. In the U.S., Saxdor plans to show them at the Fort Lauderdale show starting Oct. 29.
With its plumb bow, narrow beam and aggressive clean lines, the Saxdor 320 has a twin-stepped hull for maximum performance and lots of deck space, plus a double cabin with a separate head, for maximum comfort on board. In line with the current trend, it has a "terrace" that opens out on each side from the aft deck to create extra space for socializing or enjoying water sports.
On the foredeck, the 320 has a sunpad and a bench seat. The integrated anchor and windlass don't interrupt the boats lines. The T-top provides shelter over the helm and a wet bar. A sun pad with a sliding backrest is aft.
The 320 GTO has an LOA of 33' 7", a beam of 10' 1", and a displacement of just 5,200 pounds. We don't have other specs yet. Read more: