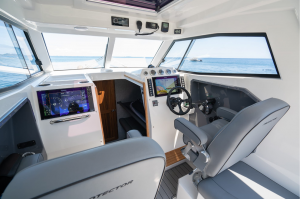 Protector has launched its new and improved 410 Targa flagship, with a fresh hull design for better performance and a new cabin for more creature comforts. With three 450-hp outboards, the new super-strong RIB tops out at about 70 mph, while maintaining Protector's reputation for superb rough-water performance.
For the new 410, the New Zealand company has widened the hull by 14 inches, using a winged flare to increase the interior space and improve the walk-through area. It extended the deep-V hull all the way aft for cutting through the rough stuff; it has an 18-degree deadrise at the transom. And Protector increased the internal beam to 9' 6" for more space on deck.
Protector also redesigned the passageway so you now can walk around the exterior of the cabin to reach the foredeck without having to step on the tubes.
The pilothouse now has more headroom and a sliding sunroof to let in more air, and the rooftop is extended aft for more protection aft. Below, the cabin is larger and includes an enclosed head with standing headroom.
Protector has two lines of RIBs. The Chase line of center consoles, from 25 to 41 feet,  and the Targa line of hardtops, from 31 to 41 feet. Protector has been supplying boats to the New Zealand Coast Guard since the mid-'90s, and Protectors also have become popular as chase boats for the America's Cup and other regattas, as tenders, as police and search-and-rescue vessels, and as go-anywhere, all-purpose recreational and adventure boats.
Specs.: LOA: 41'0"; Beam: 13'0"; Draft: 23"; Disp.: 17,500 lbs.; Fuel: 317 gals.; Water: NA; Power: 3×450-hp outboards. Read more: