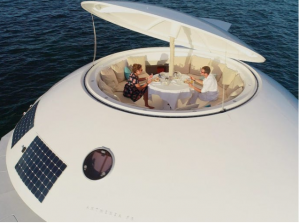 Want to get away from it all, without really going too far? Take a look at the new Anthénea Suite, a luxury floating home that's both head-turning and eco-friendly.
The French-built Anthénea is a 540-square-feet pod that runs off solar power with full living quarters inside, and an opening rooftop solarium with built-in seating for 12 and 360-degree ocean views. You can enjoy the Suite by yourself, or certainly treat your friends and family to a different type of day, or evening, on the water.
Jean-Michel Ducancelle, the architect, says he was inspired by James Bond's floating saucer in The Spy Who Loved Me, back in 1977. And the Anthénea certainly invites Bond-like comparisons.
Inside, the bedroom has an extra-large round bed, a round bathtub that can be filled with sea or fresh water, a small galley, and hullside windows. The furnishings are all eco-friendly, and the pod comes with black and gray water stations for releasing clean water back into the ocean. A sand-screw anchor holds the pod in place without damaging the underwater ecosystem.
The first pods are floating now off the Côte de Granit Rose in Brittany, France. You can rent one for the night for $336, or you can buy your own, with prices starting at $535,000. Read more: