To some degree, the future of cruising is tied to the future of alternative energy – of electric, solar, and even hydrogen power or, more likely, some hybrid combination of all three.
The movement toward alternative fuel is one result of the worldwide green movement, of the desire to move away from fossil fuel, to address climate change, to adopt new and renewable energy sources. And the advantages of electric- and solar-powered boats are obvious to anyone who's cruised on them: They have no noise, no smoke, no pollution, no (or very little) vibration, and they leave behind no carbon footprint.
The flip side of the coin is that most of them also, at least so far, have almost no range, at least at any normal cruising speed. And that's where the hybrid comes in, with cruising boats offering solar/electric power combined with traditional diesel power, giving owners the choice of power depending on where they are and where they want to go. In some cases, the range with hybrid power can be transatlantic, or more.
So far, many boat companies have followed the lead of major car companies in developing alternative sources of energy. Clearly, the future belongs to those who manage this well. Consider this: Elon Musk started Tesla in 2003, exactly 100 years after Henry Ford built his first car, and 106 years after Rudolf Diesel made his first engine. Today, Tesla is the most valuable car company in the world.
Here's a look at some of the newest boats using solar, electric, hybrid or even hydrogen power:
ALVA OCEAN ECO 60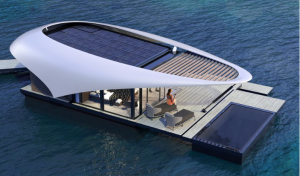 Alva Yachts, an environmentally conscious German company, has just launched a new upscale line of solar-electric power catamarans called Ocean Eco, starting with a 60 and a 90. Alva uses a new manufacturing process to shape and integrate the solar panels into  the coach-roof of the boats, providing the maximum number of panels possible.
The company now has two orders for the Ocean Eco 60 (pictured at top). At their peak output, the solar panels can generate 20kW for the 60. They work with a 300k lithium battery bank to give the boat a range of 110 nm at 7 knots, or potentially unlimited range at 4 to 5 knots. An option of a hybrid system with a zero-carbon hydrogen fuel cell would extend the range.
"We believe the time is now ripe to push forward in the next step towards sustainability afloat," says Dr. Mathias May, co-founder of Alva Yachts. "With our focus on high-end design and superior comfort, we are driving luxury towards sustainability."
Dr. May, a medical doctor with 15 years of experience in yachting, founded Alva Yachts earlier this year with Holger Henn, a yacht designer who previously worked for Bavaria and Hanse. The company is in Bad Pyrmont, Germany, near Hanover. Alva took over Pica Yachts, which had launched more than 40 smaller electric sail and power boats over the past six years.
Alva also makes a sustainable 82-foot sailboat and luxury houseboats aimed at the resort market (see the picture above). The idea with the houseboats is that their advanced solar design allows them to stay off the grid in sunny areas. To keep the weight down on all its boats, Alva uses interiors from a German cabinetmaker that supplies furniture for executive jets. http://alva-yachts.com
AQUANIMA 40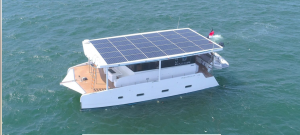 Azura Marine just launched the first boat in a new line of solar-powered, blue-water cruising catamarans in Bali, Indonesia, called the Aquanima 40. The new cat is designed to be self-sustaining, and the company says it can complete "non-stop ocean voyages powered only by sunlight." And it costs about $540,000.
Based in Singapore, Azura was started in 2012, and has been building solar-powered ferries and dive boats ever since. The Aquanima 40 is its first entry into the recreational market, and the company says it will launch a 45 before long.
The Aquanima 40 has 602 square feet of solar panels mounted on the coach roof, providing power to twin 10kW electric engines and feeding a 60kWh battery pack. It has a top speed of 10 knots. The company says its range is virtually unlimited at 4 knots. On solar power alone it can cover 100 nm in 24 hours; on battery power it has a range of 50 nm.
The boat generates all its power from the solar panels during the day. The solar power is stored in the batteries to be used at night to drive the boat and power the house systems.
The solar/electric power means the boat is almost silent under way, with no vibration or smoke or carbon emissions. On the coach roof, the solar panels are embedded, rather than bolted on, and they double as a huge catchment system for rainwater.
Built in Bali, the Aquanima 40 has a simple, straightforward design, with a highly efficient hull. It has four cabins for eight guests, and is fully equipped with air conditioning, a water maker, ice maker, stovetop and sink. The head and shower are on the main deck for easy access.
The first boat is made of fiberglass. Subsequent boats will be made from marine grade 5083 aluminum.
Specs.: LOA: 43'4"; Beam: 19'6"; Draft: 2'1"; Disp.: 14,000 lbs.; Water: NA; Power: 2x10kW electric motors.
GREENLINE 45 FLY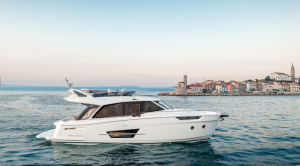 The new Greenline 45 Fly, the latest addition to the Slovenian builder's hybrid fleet, was just shown at the Miami boat show in February. It has many power options, but with Volvo's IPS600 pod drives it tops out 30 knots. Under all-electric power, it tops out at 6.5 knots, but those miles go by in peace and quiet, leaving behind zero carbon footprint.
The new Greenline is meant to provide lots of cruising comfort, with many social areas, a light-filled interior, and a basic two-stateroom, two-head accommodations plan. The hull and exterior design are by J&J Design in Slovenia, with the interior by Marco Casali, of Italy's Too Design studios, which specializes in superyachts.
The swim platform can be lowered via hydraulics for water sports, but it also serves as a base for using a small outdoor galley that is built into the transom, outfitted with a wet bar, sink and barbeque. The cockpit itself has a large settee facing a wooden table on two stainless steel pedestals. It's protected by the overhang from the flybridge.
A large glass bifold door opens on the port side to connect the cockpit to the galley, aft in the salon. A large lifting window is next to the door on the starboard side; it lifts up on a gas strut. Then a counter folds out from the galley to serve as an aft-deck bar.
The galley itself, on the starboard side, has home-style appliances, including a full-size fridge and freezer, an induction stove, and a microwave. One step up, the salon has a large U-shaped settee, with a table, on the port side, and a two-person settee to starboard. The helm seat is to starboard, with a door opening to the side deck, providing easy access for docking or maneuvering in a lock.
Below, the full-beam master stateroom is amidships, with an island king-sized bed, walk-in closet, vanity, and head with separate shower. Large windows cut in the hull sides let in lots of natural light.
The VIP cabin is in the bow, with a queen bed and its own walk-in closet. Cutouts in the forward bulwarks provide light for the cabin trunk windows. The VIP cabin has a private entrance to the day head, with a separate shower. The large closet area here can be converted into a third cabin with a bunk bed and a hanging locker.
Up top, the flybridge has a lounge and sunbathing areas, a two-person bench seat, helm seat, and a large wet bar. An optional hardtop has enough solar panels to triple the Greenline's solar panel capacity.
The foredeck has another sun lounge with an optional Bimini, and it holds two 300-amp solar panels in molded-in recesses on the coach hardtop. A 3kW inverter can run the boat's systems on its batteries alone. The Greenline also has an Onan 11kW genset.
Greenline offers an unusual range of power for the 45 Fly, ranging twin 220-hp Yanmar diesels with shaft drives to Volvo IPS600 pod drives. With twin 370-hp Yanmars, the boat has a top speed of about 23 knots.
Specs.: LOA: 51'11"; Beam: 14'11"; Draft" 3'7"' Disp.: 31,752 lbs.: Fuel: 400 gals.; Water: 176 gals.: Power: 2×220-hp, 320-hp, 370-hp Yanmar diesels, or 2xVolvo Penta IPS500/600 pod drives. http://greenlinehybridusa.com
HUCKINS 38 HYBRID
Huckins just launched hull number one of its Sportsman 38 Hybrid, and the new cruiser topped out at 35 knots under diesel power and 7 knots under electric. The Sportsman 38 is modeled after the Sportsman 36 that Huckins first launched in 1936 (pictured above), and it still runs on Huckins' iconic Quadraconic hull. Huckins also is offering the new 38 with outboard power from twin 350-hp Suzukis.
The new 38 Hybrid is the first production boat at Huckins, which was founded in 1928 by Frank Pembroke Huckins; his granddaughter, Cindy Purcell, runs the company, in Jacksonville, Florida, today. The latest Huckins is a blend of old and new, with retro styling but with state-of-the-art battery/electric power and a lightweight hull with Corecell, e-glass, Kevlar, carbon fiber and infused vinylester resin.
The boat is designed for weekend or longer cruising by a couple, with the diesels for speed and the electric power option for silent – and green – operating. Cindy Purcell says you can cruise around your harbor at a silent 7 knots under electric and then push a button, convert to the twin diesels, and cruise around at an easy 30 knots or so. (The outboards should provide even more speed.)
Whatever the power, the new Huckins will fit under the bridges in Florida and around the Great Loop. And the cruising will be comfortable. The forward cabin has a V-shaped settee that converts to a queen-sized berth at the touch of a button. The galley is down, but the overhead is open so it gets lots of natural light. It has Corian countertops, a single-burner cooktop, a double-drawer fridge/freezer and a convection microwave. The sole is teak and holly, and the joinery is mahogany.
The cockpit has a U-shaped settee on the port side and a table for five, a grill and a powered sun shade. The helm deck has an L-shaped settee, also for five, powered side windows and two electric sun roofs. Two Stidd chairs face the  helm.
The Huckins Sportsman 38 Hybrid is scheduled to be on display at the Newport, Rhode Island, show in September. Meanwhile, hull number one is ready for visitors at the factory in Jacksonville.
Specs.: LOA: 38'3"; Beam: 12'6"; Draft: 2'6" Disp.: 18,000 lbs.; Fuel: 285 gals.; Water: 95 gals.; Power: 2×380-hp Cummins QSB 6.7 diesels and 2×20-hp Elco electric motors. Optional: 2×350-hp Suzuki outboards. http://huckinsyacht.com
HYNOVA 40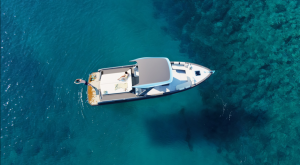 The Hynova 40, which is billed as the first production electric-hydrogen powerboat, will make its debut this fall. Built by Hynova Yachts, a French startup, the boat can be used as a dayboat or a superyacht tender.
The boat is powered by batteries and hydrogen fuel cell technology developed for the auto industry. Energy Observer Development created a hydrogen fuel cell module for boating, and it partnered with Hynova for the 40. The new boat can run on batteries or its hydrogen fuel cells.
The advantages of an electric hydrogen boat are that there are no carbon emissions, no smoke, no noise, and no vibration. Hydrogen is a natural element, the most present element on earth, so the supply is inexhaustible. It's light, clean, and quiet, and it recharges quickly. The basic problem is that there are few stations supplying hydrogen, although the French government is trying to sponsor their development.
One version of the Hynova 40 has two 150kW motors, producing a cruising speed of 15 knots and a top speed of 25 knots. Another version has two 210kW motors, powered by three batteries and two fuel cells, with a cruising speed of 20 knots and a top speed of 30 knots. The prototype at the Cannes show will have the twin 150kW motors and 30 kilograms of hydrogen fuel.
Hynova Yachts was founded earlier this year and is located in La Ciotat, near Marseille on France's Mediterranean coast. http://hynova-yachts.fr
SILENT 80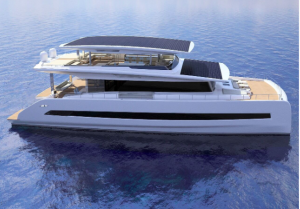 Silent-Yachts keeps on updating and improving its massive, luxurious, 80 Tri-Deck solar-powered catamaran. It now is offering new versions with a raised deck and larger windows for guests' comfort and enjoyment underway, and a larger toy garage for more fun once they've stopped. The latest version, called the Loft, has a completely flush main deck, from the fore deck through the salon to the cockpit, to make moving around the yacht as easy as possible.
Silent-Yachts, an Austrian company, has already sold four new yachts and has another eight under construction. But it keeps making changes in response to clients' wishes and market trends.
"We believe that people are looking for more and more adventure in yachting," said Michael Köhler, the company's founder and CEO. "New versions of the Silent 80 will enable owners to take an amazing number of toys and provide them with great extra features like larger windows, flush main deck, new layouts for the main salon and much more."
In the new version, Silent has raised the cockpit and salon floor up more than a foot. The headroom will be the same, however, since the roof will be raised by the same amount. Meanwhile, the side windows have been enlarged a foot; electric sliding windows are an option.
With the yacht's 35' 9" beam, the salon is huge. It now measures 30 by 23 feet, and owners can bring their own sofas, loose chairs and tables to customize the interior. (The Raised Deck version is shown at the top; the Loft is above.)
Silent 80s are powered by twin 250kW electric motors working with 64 solar panels, producing 25kWp with a battery capacity of 280kWh. They use the same lithium batteries as those in a Tesla. For cruising at night, a 20-kVA inverter provides power for all household appliances.
The big cat's cruising speed is 6 to 12 knots; it tops out at 16 knots. Under solar power alone, it can cruise 100 nm a day.
Specs.: LOA: 79'7"; Beam: 35'9"; Draft: 4'1"; Disp.: 60 tons; Fuel: 792 gals; Water: 264 gals.; Power: 2/250kW electric motors. http://silent-yachts.com