Here's a look at just some of the new cruising boats, 35 feet and under, that, in normal times, you'd probably see at the fall boat shows this year: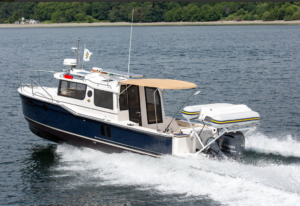 It would be hard to find a more user-friendly pocket cruiser than the Ranger Tugs R-27. Its two-cabin, one-head layout is made for cruising with a small family or a few friends; its light-filled salon makes living enjoyable, and its 300-hp Yamaha outboard delivers a 42-mph top speed that gets you where you want to go in a hurry.
Ranger Tugs are made by Fluid Motion, in Kent, Washington, one of the most successful boat companies in the U.S. today. It's run by people who know what owners want in a boat, and it delivers.
The Ranger 27 has a curved front windshield, a glass atrium overhead in the salon, windows all around, and an opening glass bulkhead aft that can let in a fresh breeze. There's also a solar panel up top, and a galley with a propane stove, sink, and fridge/freezer.
For living space, the forward cabin has a V-berth that sleeps two adults comfortably with an en suite head and shower. The salon has a midship office space with a desk and chair that converts to a berth that sleeps two, while the dinette converts to a berth or a lounge area.
The R-27 has Ranger's new Dinghy Lift integrated into the swim platform; it has a hinged mechanism that raises up to clear the outboard. It solves the problem of how to store a dinghy on an outboard boat, and it will make cruising easier, whether in the San Juans, the Great Loop, or on the Chesapeake.
With its beam of 8' 6", and weight of 7,000 pounds, the Ranger 27 is fully trailerable. You can take it home when you're done, or head off over the horizon for new cruising grounds.
Like all Rangers, the 27 comes cruise ready, with a Garmin 8612 chartplotter, sonar, radar, and autopilot. It also has all the equipment you'll need for a safe cruise; there's even a standard bow thruster to help with docking.
Over the years, I've cruised on Ranger Tugs in the San Juans and the Canadian Gulf Islands and have always enjoyed their comfort, creative use of space, and easy living on board. It seems that a lot of people share that view.
Base price for the R-27 is $199,937.
Specs.: LOA: 31'7"; Beam: 8'6"; Draft: 33" (motor down); Disp.; 7,000 lbs.; Fuel: 150 gals.; Water: 40 gals.; Power: 1×300-hp Yamaha outboard. Read more:
IGUANA 31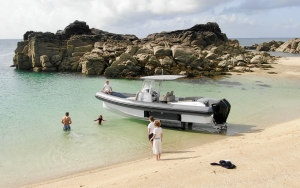 Iguana's amphibious RIBs made quite a splash when they were first introduced to the United States at the Fort Lauderdale boat show in 2019. And not only in the U.S. So far, Iguanas with deep-V hulls to cruise through the water and tractor drives to climb onto beaches on land, have been tested on all six continents of the world. Now, Iguana is launching a new, improved luxury model, called the Iguana Knight.
After its initial success, said Antoine Brugidou, the French company's founder and president, "Iguana experienced an unprecedented demand for a more luxurious RIB built to a higher specification. That's why we launched the Iguana Knight, in order to enhance waterfront properties, support superyachts as a chase boat, or be integrated on board as a tender to a megayacht."
It's also designed for anyone who wants a fast (48 knots), safe, stable, blue-water ride without having to bother with a slip or a marina. If you have waterfront property, keep the Iguana in your garage and drive it down to the beach. The boat's tractors, and a 15kWh electric motor, propel it to speeds up to 4 mph on land.
And you don't have to get wet, or even touch the water, to climb on and off the Iguana. Push a button and a sturdy boarding ladder deploys from the transom. Once the boat's in the water, push another button and the tractors retract into the hull.
The new Iguana Knight has a "comfort pack" to make live easy on board. It also has touchscreen electronics, premium upholstery, a V-berth below and a marine head. A convertible top keeps passengers (as many as a dozen at a time) cool and in the shade.  The Knight comes in five colors.
The first Iguana Knight is scheduled to leave the factory in Caen at the end of July.
Specs.: LOA: 31'0"; Beam: 11'0"; Draft: NA; Disp.: 7,495 lbs.; Fuel: 132 gals; Water: NA; Power: 2×300-hp outboards. Read more:
NORTHCOAST 31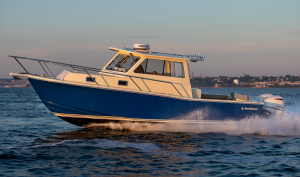 NorthCoast Boats in Bristol, Rhode Island, just launched its new flagship, the 315HT, a pocket cruiser that sleeps four, hits 55 mph with twin 300-hp Yamahas, and cuts through an offshore chop with a 23-degree deadrise at the transom.
NorthCoast builds no-nonsense boats, with an emphasis on coastal and offshore functionality. Jose DaPonte, the owner of NorthCoast, a division of C&C Marine, says the new 315HT "defines the next generation of NorthCoast Boats, with more fishing and cruising performance, minus the over-the-top amenities boaters pay for but never seem to use."
The new 315 has a flared bow, high freeboard and a classic sheerline. The hardtop provides three-season protection in the helm deck. Below, it has a double berth plus a 6' 8" berth set athwartships aft under the helm. There's a private head with a shower.
Up top, there are an opening windshield and side windows in the pilothouse, and a pull-out AC/DC Kenyon grill. A sink is in the cockpit. A tuna door is on the port side, plus a walk-through door in the transom. The cockpit has two aft-facing fold-down seats; a five-foot-long folding seat across the transom is optional.  A teak deck also is optional.
NorthCoast has a "no wood" construction policy. It provides a 12-year warranty for the hull and stringers.
Base power for the 315HT is twin 250-hp Yamahas, giving the boat a range of more than 500 miles. Base price: $293,942.
Specs.: LOA: 35'0"; Beam: 10'2"; Draft (hull): 1'9"; Disp.: 12,212 lbs.; Fuel: 316 gals. Water: NA: Power: 2×250-hp Yamaha outboards. Optional: 2×300-hp Yamahas. Read more:
SAXDOR 320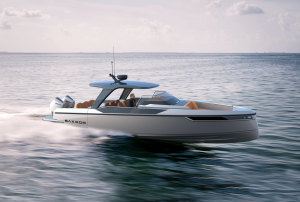 Here's a new boat that's bound to get a lot of attention at the boat shows this fall, because of its looks, its pedigree, and its price.
Take a first look at the head-turning Saxdor 320 GTO from the new Finnish company, Saxdor Yachts, founded just last November by Sakari Matilla, who previously was a founder of Axopar and several other boat companies. The Saxdor 320 GTO also is a product of the award-winning firm of J&J Design, which has worked on some of the best-selling sail and power boats for the past 36 years. And the Saxdor 320 GTO comes with a base price of about $101,000 plus VAT for its single Mercury 300-hp model, with a 38-knot top speed. Move up to twin Merc 300s, and the boat tops out at 50 knots.
Matilla, who left Axopar in 2018 after it became the best-selling brand in Europe as well as an instant hit in the U.S., says he built the new Saxdor because "I have always admired Italian design, American functionality, and French pricing. With the 320, the aim is to incorporate these attributes and combine them with the Scandinavian way of boating."
The 320 is Saxdor's second model. It introduced a 20-footer a few months ago. The boats will make a debut at the Cannes show, starting on Sept. 8. In the U.S., Saxdor plans to show them at the Fort Lauderdale show starting Oct. 29.
With its plumb bow, narrow beam and aggressive clean lines, the Saxdor 320 has a twin-stepped hull for maximum performance and lots of deck space, plus a double cabin with a separate head, for maximum comfort on board. In line with the current trend, it has a "terrace" that opens out on each side from the aft deck to create extra space for socializing or enjoying water sports.
On the foredeck, the 320 has a sunpad and a bench seat. The integrated anchor and windlass don't interrupt the boats lines. The T-top provides shelter over the helm and a wet bar. A sun pad with a sliding backrest is aft.
The 320 GTO has an LOA of 33' 7", a beam of 10' 1", and a displacement of just 5,200 pounds. We don't have other specs yet. Read more:
CUTWATER 32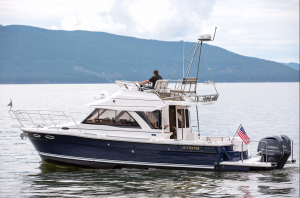 The new flagship of the ever-growing, increasingly-popular Cutwater fleet, the new 32 Command Bridge is a user-friendly family cruiser with a creative combination of space, comfort and performance. Indeed, standard power on the new Cutwater 32 CB is twin 300-hp Yamaha outboards, and they will deliver enough speed to help you reach that remote cove before nightfall or let you outrun an approaching storm.
Cutwater is known for its ability to pack a lot of standard features inside and out its boats. The 32 CB has a master cabin forward, with an island bed, LED lighting and a head and shower, plus a private midships cabin for guests or family; two more people can sleep on the convertible dinette in the salon. The boat has a full galley with enough storage space to supply a family cruising vacation.
The cockpit comes with seats that fold out of the bulwarks, reversing seats (meaning they can face forward or aft) against the transom, a grill, sink and fridge.  The swim platform is large (20 square feet) and is built so it doesn't have any hoses or rigging tubes to trip over.
There's more lounge seating on the bow, and you could have a small party up top on the flybridge. The helm there is equipped with same Garmin electronics that you'll find on the lower helm. Bow and stern thrusters are standard.
The boat has a double-stepped, deep-V hull for performance. We don't  have any speed number yet, but with 600 horsepower and only 10,000 pounds of displacement, the 32 CB should move. The hull is designed so it corners firmly and smoothly.
Built in Monroe, Washington, a bit northeast of Seattle, the Cutwater 32 CB comes ready to cruise in two packages with factory-direct pricing. The Northwest Edition has a diesel forced-air furnace, propane stove and oven, and downrigger plugs and pads, all for $329,937. The Luxury Edition includes a 5kW gas genset, air conditioning, a two-burner electric stove-top, and combo convection oven/microwave, for $344,937.
Specs.: LOA: 37'8"; Beam: 10'0"; Draft: (motors down) 33", (motors up) 26"; Disp.: 10,000 lbs.; Fuel: 300 gals.; Water: 80 gals.; Power: 2×300-hp Yamaha outboards.
COASTAL CRAFT 33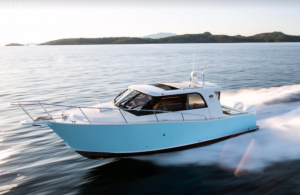 Based on the popularity of its 33 ProFish, Coastal Craft, the well-regarded builder of aluminum boats in British Columbia, has just launched a Coastal Craft 33 Express with two cabins and outboard power. The new 33 Express has a top speed of 42 knots and a range of 400 nm at 30 knots, according to the company.
Coastal Craft, with a model lineup from 30 to 56 feet, makes its boats out of marine welded aluminum, with polyurethane foam insulation in the hull and cabin, for strength and fuel efficiency. The factory is in Gibsons Landing, B.C., a remote small town that cannot be reached by road; it's a 40-minute ferry ride from Vancouver.Because of its location, and its emphasis on high quality, the company does everything there, including stainless steel fabrication and welding, joinery and cabinetry work, painting and finishing, and design and engineering.
I tested a Coastal Craft cruiser in Vancouver several years ago with Jeff Rhodes, the company's founder and CEO, and was impressed with the boat's quality, inside and out, as well as its soft ride and superior handling.The Coastal Craft 33 Express, as well as the 33 ProFish, is trailerable. With the outboards, it only draws 2' 2", and it has an air draft of just 10' 7", so it can pass under most of the bridges along the ICW or even the Great Loop. The ride is sure, strong and quiet.Below, the forward stateroom has a V berth with storage underneath. The aft stateroom, under the salon settee, has a double berth. There's one head with a shower and a vanity with a Corian countertop.For cruising, the 33 Express has a fully equipped galley up. Sightlines from the helm are excellent. The boat is said to have immaculate interior joinery and attention to detail.Specs.: LOA: 39'6"; Beam: 10'11"; Draft: 2'2"; Disp.: 13,500 lbs.; Fuel: 300 gals.; Water: 57 gals.; Power: 2×350-hp Mercury Verado outboards. Read more:
A couple's boat with lots of character, the Nordic Tugs 34 is designed for the Great Loop, the Inside Passage or a summer excursion to the rocky shores and hidden coves of Down East Maine. A semi-displacement trawler, the Nordic Tugs 34 is a salty, comfortable, single-diesel cruiser that's easy to manage and maintain, while retaining the company's iconic tugboat lines, including the faux smokestack.
The 34 is an outgrowth of the popular Nordic Tugs 32, which the company first built in 1985. (Nordic Tugs started with a 26 that was introduced at the Seattle boat show in 1980, and it has kept the same basic looks ever since.) The major difference between the 34 and the 32 is a larger forward cabin, with a walkaround berth instead of a V-berth, and a larger head below, making it more comfortable to spend long periods of time on board.The pilothouse has sliding doors on either side, giving access to both side decks. It also has 360-degree views, with large front windows, side windows and glass in the doors, plus small windows looking aft. A raised seat for two, with footrest, is on the port side, opposite the helm station, which has its own seat for two, so everyone can enjoy the view underway.The salon is straightforward, with large square side windows letting in a lot of light, plus more windows aft. The L-shaped galley is along the port side and is equipped for cruising. An L-shaped settee is to starboard with a teak table; the settee converts to a berth for two. A watertight door leads to the cockpit. The swim platform is integral to the hull.

Nordic Tugs are made in Burlington, Washington, and they're all based on designs by the late Seattle naval architect Lynn Senour. The 34 has a full keel; a heavy-duty stainless-steel shoe protects the running gear. Powered by a single 260-Volvo diesel, the boat tops out in the mid-teens, although it reaches maximum fuel efficiency in the 8-knot range. For maneuvering around the docks, a bow thruster is standard.

You can see the Nordic Tugs 34 at the Connecticut Spring Boat Show at the Brewer Essex Island Marina from May 4 through 6.

Specs.: LOA: 34'11"; Beam: 11'4"; Draft: 3'8"; Disp.: 15,700 lbs.; Fuel; 205 gals.; Water: 100 gals.; Power: 1×260-hp Volvo D4. Read more:

http://nordictugs.com   http://wildeyachts.com

JEANNEAU NC 1095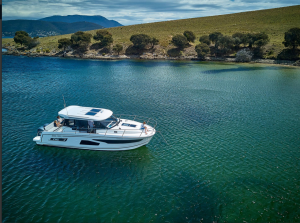 The new Jeanneau NC 1095, the 34-foot flagship of the French builder's outboard fleet, is a versatile boat. With three possible cabins, a head with a separate shower, and one-level living from transom to helm station, it's a comfortable family weekend (or longer) cruiser. But you also can use it for casual fishing, waterskiing, picnics on the beach (just tilt up the outboards), or just about anything else you'd like to do on the water.
And it performs. Powered by twin 300-hp Yamahas, the new Jeanneau tops out at 47 mph. It also has some nice touches to make cruising safe and easy. A sliding door next to the helm leads to the starboard side deck, for example, so the captain can help with docking or maneuvering in a lock. And the side decks are recessed, so people can move around the boat safely.
The salon is filled with natural light from large windows all around, and a sliding glass door aft that leads to the cockpit. Two overhead sunroofs also let in light and fresh air. Visibility from the helm is very good in all directions.
The aft bench seat in the cockpit slides forward when you want to tilt up the outboards. The cockpit is one major social area; the foredeck is another, with sun lounges featuring lifting back rests.
The galley is up on the starboard side of the salon, and it's equipped for cruising with a cooktop, microwave, fridge and upper and lower storage cabinets. A dinette is to port; the back of the front seat there flips forward or aft, so the passenger can sit facing forward or facing the dinette.
Below, the NC 1095 comes with either two or three cabins and one head. The owner's cabin is forward with a large centerline bed, two overhead hatches and long windows down each side. The guest cabin is aft a bit on the port side with a berth for two. The third cabin, also with a two-person bed, can be to starboard; otherwise that are is used for extra storage.
Base price is $216,550.
Specs.: LOA: 34'5"; Beam: 11'1"; Draft: 2'4"; Disp.: 10,225 lbs.; Fuel: 106 gals.; Water: 26 gals.; Power: 2×300-hp Yamaha outboards. Read more:
https://www.jeanneauamerica.com/en/boats/powerboat/41-nc-weekender/621-nc-1095/#gallery-exterior_8
ASPEN POWER CATAMARANS C108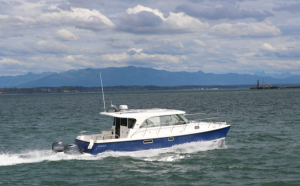 Aspen Power Catamarans just launched its all-new 35-foot C108 cruiser, powered by asymmetrical Yamaha outboards, and it hit a top speed of 25 knots and a fuel-efficient cruising speed of 19 knots, producing 2 nmpg.
Larry Graf, Aspen's founder and "chief adventurer," designed the new proa-type cat so it could be trailered to new cruising grounds It has a beam of 10' 8" and a combined boat and trailer weight of 12,500 pounds, so it could be towed by a ¾ ton pickup. Aspen owners are an adventuresome type, and some wanted a three-cabin boat that they could trailer easily to different locations or to warmer waters for the winter.
Like all Aspens, the new C108 has the company's patented non-symmetrical hulls and power to provide exceptional tracking, fuel efficiency and performance in a seaway. The boat has a 200-hp Yamaha in the larger starboard hull, and a 115-hp Yamaha in the smaller port hull.
The new salon is larger than in previous Aspens, and has a five-person dinette with a U-shaped settee on the starboard side, a 12-foot long galley to port, and wrap-around windows. Below, the cat a master cabin forward with a king-sized bed, a quarter-berth under the galley, and another quarter berth under the dinette; there's one large head with a shower.
The standard boat comes with a 130-gallon fuel tank, but Aspen can provide a 180-gallon capacity on its Expedition model of the C108.
Specs.: LOA: 37'6"; Beam: 10'8"; Draft: 1'10" (engines half tilt); Disp.: 9,800 lbs.; Fuel: 130 gals.: Water: 50 gals; Power: 1×200-hp Yamaha outboard and 1×115-hp Yamaha outboard. Read more:
http://aspenpowercatamarans.com
CAPE POWERCATS 35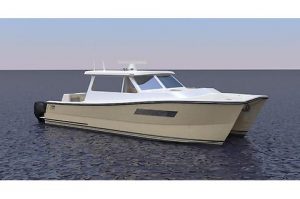 Taking advantage of two trends, the increasing popularity of power catamarans and the explosive growth of outboard power, Cape Powercats is introducing its new 3500, and it comes in either a center console or a pilothouse version. And you can customize either one to fit your cruising lifestyle.
The good news is that the new Cape Powercats use the same hull as the one on the Buzzards Bay 34 power cat that received rave reviews when it was launched in 2010. When I was talking to JP Skov, a partner in Northstar Yacht Sales in Portsmouth, Rhode Island, who's handling Cape Powercats, I realized that I actually had tested the Buzzards Bay back then, on a lousy afternoon, heading out from Falmouth on Cape Cod to cruise over to Martha's Vineyard on three-to-four-foot lumpy seas.
I remembered at the time that the cat performed admirably, giving a relatively smooth ride without the pounding that I had expected. It turned easily and remained almost flat, and when we could find a stretch of decent water it produced an upper-30-knot top speed.
Chris White, of Chris White Designs in South Dartmouth, Massachusetts, drew that boat for Russell Hunt's Multihull Development Inc. White had been designing multihulls for about three decades, and he got this one right.
The Buzzards Bay, and now the Cape Powercat, also are designed for the way many people use their boats today. The cats provide comfortable, fast, enjoyable coastal cruising with a lot of space for their length. The 12' 7" beam means there's room for everyone, or everything, you want to take along for a day, weekend or even a week on the water; a cat simply offers much more volume for its size than a comparable monohull.
But the real appeal is in the ride. The Cape Powercat has slender displacement hulls with a fine entry and full after sections. The boats accelerate quickly, track easily and they don't pound. The deck between the hulls on the Buzzards Bay didn't slam or make any noise while cutting through the waves and spray; the boat has a tall tunnel and ramped underbody.
"The ride of a Chris White-designed power catamaran is one of the best and most sea-kindly I have ever experienced," says Skov. The lines of the boat are clean, functional and appealing. Skov says that a carbon beam aft gives the strength to deliver a wide-open platform with the cockpit and the helm deck all on the same level. "This feature has allowed us to deliver a boat to a client that is wheelchair-bound," he said. 'It also allows us to offer customizable layouts depending on the client's boating style."
Specs.: LOA: 37'7"; Beam: 12'7"; Draft: 1'6"; Disp.: 10,000 lbs.; Fuel: 300 gals.; Water: 60 gals.; Power: 2×300-hp outboards. Read more: