Here's a great story, with lots of pictures, from Fleming Yachts, about how Anne and Bill Knorr bought a used Fleming 53 and lived their dream by cruising for 12 weeks and 3,200 nm from Anacortes, Washington, to Glacier Bay, Alaska, and back. Read Anne's account here:
For several years, two long, narrow maps have hung side-by-side in our garage, a colorful illustration of the waterways from Puget Sound to Southeast Alaska depicting the route along the Inside Passage. It has been a long-time dream of my husband and me to motor the entire passage from Anacortes, Washington, to Glacier Bay, Alaska. The maps have patiently awaited our journey, as if beckoning us to, "just do it!" each time we parked our cars. The origin of the idea began almost twenty years ago when we chartered a boat to see the sights in the San Juan Islands.
We happened into a shop at Friday Harbor that stocked charts and maps of the area, and there we saw the Inside Passage boldly displayed, as if extending a personal invitation to a voyage across the coastal waters with endless coves, inlets, fjords, and glaciers. We purchased the maps, a promise of a future adventure. For a while the maps were thumb tacked onto our basement walls, a subtle reminder of the possibility, but as the years passed and we became busy raising two children they were relegated to the back corner of a closet, neatly rolled with a rubber band securely holding them in place.
Though it had lay dormant and somewhat forgotten for many years, this dream refused to die. Chartering a boat out of Juneau and circumnavigating Admiralty Island for our twenty-fifth anniversary sparked our vision anew. The following January we attended the Seattle boat show, curious what options might be available for making this journey a reality. As we wandered around the docks at Union Lake we walked through several boats before we came upon an old Fleming 55 for sale.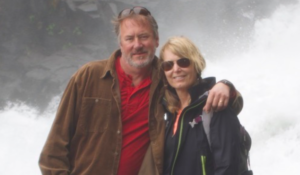 We made our way to the foredeck where we settled into two wooden Adirondack chairs just as the sun was beginning to set and watched as white puffy clouds turned golden, then pink, against the deep blue sky. We had already fallen in love with the layout and details of the Fleming but the stunning sunset was icing on the cake. The Fleming had captured our hearts. Within the year we found Mystic Dancer, a 53-foot Fleming, in Portland, Oregon. This was our first foray into boat ownership other than the sixteen foot Hobie Cat we had raced years ago and it felt a bit daunting.
It took a few years of getting acquainted with our boat and my husband's retirement from full-time work before we began our grand exploration. After a lot of planning, provisioning, and creating a detailed itinerary that was adjusted multiple times, we left Anacortes on May 1, 2017, with our tanks full of water and fuel, our water maker repaired, and our tender outfitted with downriggers. It was a late start, 6:30 pm, and we didn't get very far that evening, only to James Island in the San Juan's, but we were at last on our way. Read more:
https://www.flemingyachts.com/news/a-grand-exploration-along-the-inside-passage?fbclid=IwAR1U2jIl2f0bPwrpBbs2_JBH5AmamD7hjrYQJ1gELgOmuGXuVWSfQ3I4cV4