Moi Composites, an Italian high-tech startup, just introduced its 3D-printed fiberglass powerboat at the Genoa boat show. The boat, called MAMBO, for Motor Additive Manufacturing BOat, was made with Moi's new continuous fiber manufacturing technology.
Under a generative algorithm, Moi's system deposits continuous fibers into a thermosetting resin to produce a material with the strength and durability of fiberglass but which is much easier to shape. The finished MAMBO vessel is 21.3 feet long with a beam of 8.2 feet and a weight of 1,763 pounds. It has a 115-hp outboard engine.
The hull resembles an inverted triangle, giving it superior structural strength. The lines are modern and flowing.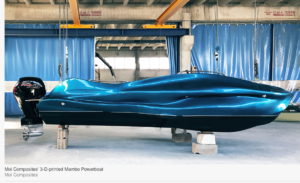 Moi's 3D system is different from the one used last year by the University of Maine, where its Advanced Structures and Composite Center built a 25-foot boat in 72 hours using a 3D thermoplastic printer. The Maine printer made the boat by adding layers of a composite blend of plastic and wood cellulose that harden as they cool. It then adds layers of the liquid composite over and over again.
Founded in 2018, Moi specializes in continuous fiber manufacturing and advanced 3D  printing. It worked with experts specializing in automation, composites, and marine manufacturing to produce MAMBO. "Our cutting-edge technology proves that both real and visionary products can be 3D printed any time, any place, any shape," Moi said. Read more and see the video, below:
https://www.moi.am/projects/mambo