Yanmar just displayed its new X47 Express Cruiser, the official VIP Cruiser of the 36th America's Cup presented by Prada, at the big Genoa boat show. Yanmar designer Ken Okuyama worked with Azimut to install three 370-hp sterndrives in the new yacht.
After Genoa, the next stop for the Yanmar X47, the company's flagship, will be the America's Cup in Auckland, New Zealand, starting March 6. It will offer VIPs a fast ride to the course and then a luxurious viewing platform to enjoy the races.
Power for the X47 comes from three Yanmar 8LV turbo diesels with XT370 sterndrives, giving it a 40-knot top speed, head-turning acceleration, and sports-car maneuvering. This engine and drive package has the highest power/weight radio on the market, according to Yanmar.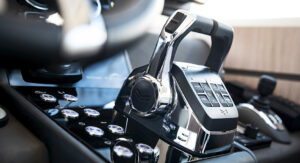 The helm, with two matching seats, is on the starboard side of the salon; it has a state-of-the-art dashboard, plus Yanmar's joystick for fingertip docking. On the port side, a large U-shaped sofa provides luxurious seating, while a sunroof overhead lets in lots of natural light.
The large cockpit will certainly be the main viewing center during the races. It has a large U-shaped sofa to port, and lots of space for relaxing and entertaining. The foredeck has a sun pad. The boat is large enough to hold 12 people.
Below, the accommodations deck has two staterooms with en suite heads and showers. The master cabin is forward with a walkaround bed; a guest stateroom is aft. They are separated by a salon with a U-shaped settee to port; it can be converted to a double bed at night. A full galley is to starboard.
Before he started designing for Yanmar, Okuyama worked for Pininfarina for many years. He says the Yanmar 47's low center of gravity and the design of the radar arch were made with the looks of a luxury sports car in mind. Read more and see the video below:
https://www.yanmar.com/us/about/x47/